Memories
November 17, 2012
I kneel down in my empty room. It looks strange, all the posters stripped of the sea green walls. I slowly open the shoebox. There are old photos inside. Picking up the first photo, I look closely. I'm there, at age four. We're decorating the Christmas tree. Taped to the photo, I'm surprised to see a ceramic Santa hat with jagged edges. Thirteen years ago I broke the ornament…
"Jennie, sweetie, please bring that back," Mom smiled at me. I glanced up at her.
"This?" I looked doubtfully at the ceramic Santa I was holding. Mom smiled.
"You want to decorate the tree, right?"
"Um, yeah." I carefully placed the Santa on the tree branch. Suddenly, Dad pulled me away. The tree fell over. Mom wasn't much help. She grabbed the camera and snaps a picture. Dad grabbed the tree trunk in an attempt to stand it back up. I grabbed the Santa shard.
I laugh as I gently place the picture and shard back in. The next picture is small: from when I was seven. My mom and I are standing, dripping wet, in front of the ocean. Dad was taking the picture…
"Say cheese… Oh, what a perfect picture this will be. We can put it in our photo album." Dad said, holding up the camera. Just then a huge wave came and walloped us. Dad snapped the picture and had a good laugh.
I glance at the sea glass taped onto this picture. The big wave had washed it ashore, and I had thought it was pretty. This picture had nothing to do with our house though, so I placed it back in the box. The next picture is of me trying to blow out the tenth candle on my birthday cake. No matter how hard I blew, it would not go out.
"Make a wish, make a wish!" My best friend Maddy squealed. I took a deep breath as I wished. My wish was that I'd blow out all my candles in one breath. No such luck.
"Huff and puff and blow that candle out!" Dad suggested. My friend Hannah giggled and I turned red. On about the sixteenth try, all my friends leaned in and together we blew the candle out.
I remember taking excessive bows with all my friends that day. Attached to my picture was a candle that one that took sixteen-and-six-friends- blows. I can't believe that there aren't any more pictures. The next thing I pull out is the camera. I could almost smell the pine needles, salt water, and candle wax on it. A small note is taped on it:
Jennie, this camera and these pictures are for you. I think you'll recall happy memories of when we lived in this house. I hope we'll share as many memories in the new house.? -Mom and Dad.
"Do you like it?" Mom asked. She's standing in my doorway.
"Love it." I reply. I give her a hug. Dad is right behind her. I hug him too. He hands me another shoebox.
I clutch it tight.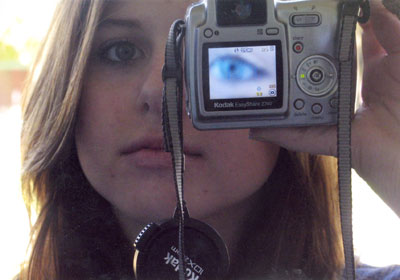 © Jessica M., Phoenix, AZ