First Day
November 16, 2012
"Relax, Sophie. You'll be fine." My mother said. I couldn't believe I was letting her walk me to school on my first day of high school. We live only two blocks away for crying out loud. If I was 'going to be fine' then why can't I walk to school on my own? East Ridge is like, this really sleepy town with no crime rate. It doesn't even have a pizza place.
East Ridge High came into view. It was recently redone in stucco, supposedly to give it a modern look. It still looked like a high school now, just a high school with stucco walls. Some of my friends from LCS, the school in which I had attended eighth grade were standing around looking for me. Melissa, one of my best friends waved me over.
"What's your schedule like?" My other best friend Katrina asked. I pulled the slightly crumpled piece of paper out of my bag. I handed it to Katrina, who read it quickly, lips moving on each word. "Got it." She announced.
"Katrina wants us to memorize each other's schedules." Melissa explained.
"Oh. I barely have mine down. All I know is that I have Algebra 2 first period." I made a face. Algebra 1 hadn't gone very well for me. I had tried to care what the value of x was, but as soon as Mr. Michaels had announced that we would be solving equations with two unknowns, I just about lost it.
We all headed inside the stucco framed doors. The halls were like the halls you'd expect from any other school: Dull gray lockers and off-white walls.
"Someone better paint a mural around here real soon." Melissa muttered. Melissa loves art and hates dull colors.
"Wait till you see the gym," said a voice behind us. It was Erica Beecher and her little brother Paul, who was also Katrina's boyfriend. Erica was a senior, therefore all important. "I was showing my little brother around. George and Brian were with us too…" She glanced behind her. A large crowd had formed around Brian Rogers and his iPhone 5.
"Cool, he's wanted to show me that." Melissa said, pulling me down the hall. I located my own boyfriend, George Ellis quickly.
"Hi, Sophie." He said without taking his eyes off Brian's phone. I never will understand where boys' priorities lie. I rolled my eyes at Melissa, but she was caught up in Brian's 'Where's my water?' app. The bell rang suddenly, and all the freshmen began shuffling through their papers with confused expressions on their faces. Sophomores, juniors, and seniors passed us by with superior expressions on their faces. I scrambled for Room 909, Algebra 2.
My high school career had begun.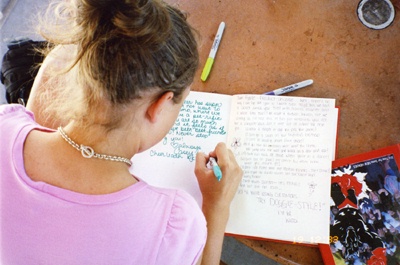 © Jessica S., Pheonix, AZ