Jaded Scarlet
November 2, 2012
Gusts of cold wind bluntly breathed in my face and ran thin, icy fingers through my hair with the slightest sense of hostility. A blanket of pine trees stretched out before me, and tremendous, large birds intently circled the tops, peering down between each leaf, and trying to spy their next meal. I couldn't look back at the all-too-familiar sight; too many tears would have slid out and I would have broken down right then and there. So, there I sprinted betwixt the trees, trying to hold back the tears stinging my eyes, from the last hopeful fragment of my life.
My parents left me when I was six; an intoxicated driver ignorantly crashed into the side of my parents' tiny sports car when they were driving home from vacation. There were only two fatalities: my mother, brave, but who died on impact, and father, fearless, but who managed to stay alive for a last goodbye. Even though the person's identity is concealed, I'll never forgive him, for he was the one who sent me to that dreadful adoption center.
As cliche as it seems, the adoption center was trouble from first glance; ivy had slyly slunk up the faded brown bricks and the walls looked as if somebody had recklessly thrown bucketfuls of bleach at them in a fury. Cracked, brown bushes weakly lined the walls, glaring at you with hate and anger, giving the entire building a colorless, lifeless appearance; that was actually an accurate depiction of the inside. Ms. Tucker, who was in charge of registering and instructing the children, was as blank as the walls; she lacked a personality. She honestly didn't care about whatever we did; we basically had free reign, no containment, over the small building, a run-down, virtually useless edifice. Besides me, there were about twenty-five other kids, ranging from newborns with soft, bald heads, to the ones who weren't considered kids anymore by most of society, one of whom much intimacy was shared with. Scarlet, an amazing friend despite her lack of morality, was her name and she's what's missed the most when my times in the adoption center are brought to mind.
My disappearance from the adoption center was necessary because first, Ms. Tucker couldn't care less, and second, the thought of myself as a mere orphan sent chills down my spine. I was plenty more than that, and I certainly didn't need people showering me with pity, whether they were being frank or not. Leaving Scarlet was by far my first priority when it came down to exiting the squeaky front door; I wasn't sure if I was truly capable of it. We had been hurriedly drawing out plans since day one at the center, and she reluctantly seemed to understand my reason for leaving. It was difficult to choose between a theoretically free life and a best friend I trusted and shared all my darkest secrets with. One cloudy night, after my decision was final, I grabbed an old bag from under my bed, scrawled a quick note to Scarlet, and plunged into the moonlit shadows.
A week had passed; a small patch of grass, my makeshift bed, rested under a tall, sturdy pine, and my attire was nothing more than brown, tattered cloth. My eyes barely adjusted to the steadily changing light, my hands shook with the tiniest of movements, and my focus diminished with every millisecond; I was in desperate need of hydration. The world, from my point of view, crazily swirled into strange colors and shapes while my hands tried to grip onto anything for balance. As my thoughts filled my mind and the strange hallucinations brought on by my lack of water captivated my sight, I found myself yearning for the heavy, humid stench of the adoption center. If only the dangerous consequences had crossed the forefront of my mind before I executed my decision, one of which being inevitable, merciless, death.
I hadn't been able to travel much, for I was severely dehydrated and lacked proper clothing to venture far out into the woods. That meant that, fortunately, I could possibly have uncovered the route back to the center, but rehydration was my first priority at that point. It felt as if somebody had crammed wads of cotton into my mouth, and I'm almost certain that the production of saliva had ceased entirely. Through my multicolored hallucinations, odd silver glints in my peripheral vision kept persistently reappearing, taunting me with the possibility of life after my scrap with dehydration. My hands involuntarily snapped up and gripped the sides of my head, which miraculously gave me a short break from all the spiraling rainbow hues. Astonished at my find, my feet tripped forward, oblivious to my physical disorientation, and I flushed my face, hands, and arms with the clear, glossy water. An automatic smile gently lifted the corners of my lips; the comfort of knowing that I would be able to make it back home was enough to satisfy me, in spite of my chapped, sore lips.
The coiling, quickly twisting colors cleared up almost immediately at the final slice of my shadow passed the last layer of the towering pines. I had searched for the center for the past three days, and my search had finally proven useful; my eyes could spot even the tiniest details of the center. Suddenly, the dirty brown walls, my former foes, looked a bit cleaner and the ivy looked slightly greener; it was as if everything had spruced itself up especially for my return. A superior smile spread across my face as I leisurely climbed the rigid concrete steps and cracked open the adoption center door, trying to avoid the shrill squeak. Scarlet's once familiar, yet jaded and cynical face brightened, and I reminisced in the murky yet cozy air that I now call home.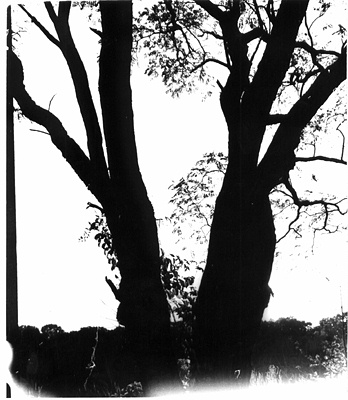 © Julie S., Marblehead, MA