Can You See Me?
August 5, 2012
Chapter one: Little five year old Lilly woke up early that morning to see if Mommy was wearing black again she was always wearing black, ever since Daddy had gone to work, but never come back. It had been a year since then. Mommy was already downstairs drinking that nasty stuff called "Coffee".
"Morning Lilly" Mommy said, her voice cracking. Her face was already stained distinctively with tears.
"Morning Mommy" Lilly said quietly. Mommy was wearing black. it was useless to hope she wasn't. Lilly slowly began to feel out of place with her long, blond, loose pig-tails and bright purple pajamas, but they were her "End-of-Summer" pajamas.
Summer had, just come to a close, once again. This time of the year had always brought great joy to Lilly's small family. Everyone would smile all the time. But Mommy doesn't smile anymore. She just couldn't, no matter how hard she tried. Smiling brought back memories of Lilly's father. Memories of Lilly's father brought back the tears. She tried to force the tears away when Lilly was around. But when your only child, looks exactly like the one you love, it's hard not to cry. The 9/11 attack would never be forgotten.
Quietly, Lilly crept back up to her "Purple-Palace" of a room. She felt happy in her mind, but completely and utterly destroyed in her heart. She felt the need to write... but what? Maybe she could write a letter to Daddy! Would he write back? Would he ever get it? Did he still remember her? But what if he didn't. What if he just left them never to return and cast them out of his mind, forever. She pushed it all out of her mind sighing, and waddling over to her small desk. Daddy had made it himself when she was three.
She pulled out a piece of paper and her best pencil, Daddy had given it to her.
She wrote: "It's been a year Daddy. You've been at work for a long time. What are you doing there? Are you having fun? I learned how to swim this summer. and I can even open my eyes under water! I wish you could see me. Can you see me Daddy? Will you ever come home Daddy? I really, really, really, miss you. Come home soon daddy. Love, Lilly"
From that day on, she would write to him whenever she knew her heart was broken for him.

Chapter Two: Lilly had grown into a beautiful young girl. She was in the Fifth grade when she came home from school, finding her mother curled up on the couch, sobbing. Mommy never cries though.
"Oh Lilly, I didn't hear you come in" she said wiping her bright red eyes and sitting up.
"Mommy, what really happened to Daddy? He's 'been at work' for five years" Lilly said sitting next to her mother and staring into her eyes, begging to know what really happened.
With a heavy heart, her mother gave in; sighing she began...
"On September 11the 2001, two planes crashed into the building where your father was working. Your father died, Lilly."
Confusion, Loss, heartbreak, and an aching pain, consumed Lilly's body. With strong tears streaming down her face she ran to her room and flung herself onto her bed, sobbing into her pillow, crying herself to sleep.
After about five hours, Lilly woke up, rubbing her tear stained face with her palms. She rolled out of bed and decided to write another letter to Daddy, knowing he would never get it.
"I'm trying not to cry Daddy, but it hurts so much to know that you're gone. Now I know why Mommy wears so much black. I might even know how her heart feels; only mine is freshly shattered. Why didn't mommy tell me the truth from the start? I wouldn't be hurting so much right now. Can you see me up there in heaven? Does it hurt to watch me, and know you can't hold me? Because it hurts for me. It hurts to know you but never be able to hold you...I really miss you Daddy. Love, Lilly"
She pushed the letter aside and put her head down on her desk, folding her hands over her head, she sobbed herself to sleep again.
Chapter Three: Lilly had grown into a young woman in no time at all. The was young and beautiful, and currently in high school. She often thought about how you life might be different if he father was in it... would he come to her Ballet recitals? Would he be proud that she had done so amazing in school? She wanted- no, needed, to know.
She shuffled into the same house she had every day, know what lie inside. A deeply depressed mother crying about her deceased husband. Only to find, her mother wasn't sobbing to herself, curled up on the couch doused in black. She was in the kitchen, cooking, wearing a red t-shirt and blue jeans.
"Uh, Mom? Is that you?" Lilly said nervously. Thinking her mother was officially on drugs.
"Yep, it's me. I took an anti-depressant today." she said cheerfully. Scared out of her wits and immediately remembering the date, Lilly dragged herself up the stairs to her poster-plastered room. Tossing her back-pack next to her dresser and thinking of her father, she threw herself onto her bed, crying into her pillow. She knew that in a few minutes she would begin to sob. But she refused to, she ordered herself to write another letter to her father. She rolled off the bed and crawled to her desk; where she pulled another piece of paper out and a fountain pen. And beginning to write: "Hi Daddy. It's been ten years, since you've been gone. But I just can't forget. It hurts so much to let you go. I'll try to forget, but them the pain just pierces right back into my heart. I can't let go.
Mommy lets me sleep in your old shirts. I think they still smell like you. I also think that no one else would be able to take your place. No one can. I need YOU. I need YOU at my graduation, YOU to walk me down the aisle. I really miss you Daddy. Can you see me? Do you know how well I'm doing? Do you miss me? If you do then come back Daddy. Love, Lilly"
She threw herself to the ground, weeping, and clutching at her shirt scratching her own skin as she did. Wailing, she screamed aloud, "I need you Daddy! Why did you leave me?! Do you see what I am without you?!"
Her mother burst through the door kneeling by Lilly and pulling her into a tight hug beginning to cry herself. Lilly's sobbing didn't stop for about two hours. She went to bed, with no dinner; she wasn't in the mood to eat; or the condition for that matter. Sleep was the only thing she was craving
Chapter Four: Lilly woke up with the sun streaming through her window, blinding her as she pried her eyes open. Her mind was still fried because of the night before. She needed to clear her head. She decided to go for a walk. Lilly fumbled out of bed and shuffled to her closet. She decided to wear her favorite jeans, her penguin shirt and a light hoodie. She slipped into her outfit for the day and brushed her hair back not caring for looks right now.
Quietly, she trotted out the front door locking it back with her house key and walking toward her neighborhood park. When she arrived she didn't want to sit anywhere, so she leaned against her favorite tree. And softly saying aloud "I miss you dad. I need you, more than you know. I know that you know that. But I just gotta know. Can you see me?"
She heard a soft but broad voice in the back of her head say "Yes, I can". She would know that voice anywhere. It was her father. She slid down the tree, falling to her knees and feeling her loss, become found.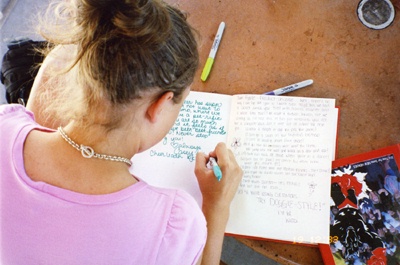 © Jessica S. Pheonix, A