No Longer Alone
May 28, 2012
Hold on, we'll be there soon."

He kissed me and then I was alone. Well, not really. The entryway was filled with tons of people, all talking and laughing and enjoying themselves. But I sure felt alone. I sat in the corner. I tried to read, like I did when I was younger, but it didn't help. Nothing seemed to help anymore. After a few minutes of reading the same paragraph over and over again, I put the book away and stood up, stretching a little. I leaned against the wall and sighed.

In my mind, the crowd melted away and the sound of an orchestra tuning itself made me realize what was going on. I looked down at my costume behind the closed curtain and smile. I'm no longer Amelia Henderson. I'm Mimi Marquez, and confidence is my middle name. I watch the curtain open from my perch on the set and gain a determined look.
"December twenty fourth nineteen eighty nine, nine PM, eastern standard time…" I stay frozen, knowing when my entrance is. The chorus hits and lights up on stage. I stand on my precarious perch and sing with all of my might, harmonizing at the right points. "We're not gonna pay…"

"What are you singing?"
I blink and return to reality. The stage is gone, along with the confidence of my character. I look down, blushing a bright red. "Oh, um, nothing." The girl looks familiar from somewhere. She looks sweet, with light blonde hair and a pretty sundress. The type of girl I normally wouldn't talk to.
"Well, it was pretty." She flounced away toward her ride just as my mom pulled up. I shook my head and couldn't help but smiling. I stalked out to my mom's car, ready for that night's rehearsal, and the confidence it would bring.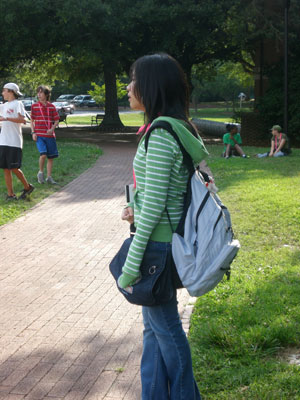 © Lucienne B., Parkland, FL