I Can Only Say Goodbye Once
May 28, 2012
September 15, 12:30 a.m.

I Have officially been in 11th grade for a full month now. Its lunch time, so my best friend David and I meet up in the lunch line.
David: Hey!
Me: Hey.
David: Its been a whole month now!
My David is just like me. My other half.
Me: I know!
We grin at each-other until its my turn to get lunch. After, I stand by the line and wait for David. I look at him with his blonde hair and deep blue eyes, oh, I love his eyes. He steps out of line with his food the exact moment Garrett, the quarterback of the football team walks by with his own lunch, and they collide. Food flies, and their own lunch lands on their shirts.
David: Oh man! Dude, I'm sorry!
Garrett: Shut up! You did that on purpose!
David: Why would I intentionally get food on my shirt?
Garrett: Shut up!
And the quarterback shoves my best friend.
Me: Hey Garrett! Calm down! He didn't mean to!
Garrett: I'll get you back later!
He chuckles to himself as if he has a plan already, and he walks away.
Me: David, are you okay?
His beautiful eyes wouldn't meet mine.
Me: David?
David: I'm fine.
He walks out of the lunch room. I sigh and hope he goes to the nurse.
I finish lunch and continue to my classes. After school I see David, who has a huge smile on his face.
Me: Whats that look for?
David: I got invited to a party!
Me: By who?
David: The football team.
My David can be so clueless at times.
Me: I haven't heard of this party, are you sure its a good idea? You made Garrett mad, don't you think its a little odd that he invited you to a, party?
David: Wow. Maybe people have moved on! Can't you be happy for me?
He goes and gets into his mom's car, they drive away. I know I can't let him go to that party. The football team probably has something planned. And it will set David off again, like the summer before 10th grade.
People were so mean to my David, for no reason. They all hated him and called him the nastiest words you can think of. So he tried to kill himself, but his mom found him just in time. Since then, he has been going to counciling, and has had only one friend, me.
But maybe people have grown up and moved on. If they have, am I being selfish by making him not go? I decide its best to let him go, he'll never listen to me anyway, and I know he'd never try to kill himself again. Even he said it.
Same day, 8:00 p.m.
I log on to mybook.com, hoping to message David and ask him how the party went. When it loads, I see Garrett's most recent post. A picture of my David, in only his underwear. I can tell he has been crying, and he has words written all over him, all of the words from that summer. As I'm about to call him, he calls me.
Me: Hello? David, are you okay?
David: I'm fine, hey don't get on mybook tonight, okay?
Me: David I...
David:Just don't. I'm sorry. And i love you. Goodbye.
Me: David!!!
But he hung up. I call the police and they come to my house with David's mom, Garrett and Garrett's dad. I show them the picture on mybook. I was going to tell them about David's suicidal history, but they already know.
Cops; Do you have any ideas about where he might be?
And only one place pops into my mind.
Same day, 8:40
We pull up to David and I's favorite park, the one we hangout at all the time. i jump out of the car. The police are yelling at me, but I don't listen. I bolt around the bathrooms and run to the play area. There are tears in my eyes as i hope its not too late. My blurry eyes scan the playground.
The monkey bars, no.
The slide, no.
At the swings is where I find my David. Hanging from his neck. I fall to the ground screaming and crying, and see his lifeless blue eyes. The eyes that I love. Was it really today that my David and I were laughing at school? Was it really today that he told me he loved me? But now the blue eyes that I love, the David that I love, is gone.
November 15, 12:00 a.m.
I got the courage to go see my David. I search the stones until I find David. I sit in front of my David, and already start to cry.
Me: Are you happy David? Now that you left me. If you really loved me, why did you leave me all alone? I did love you David, before I found at our park, but now I hate you, I hate you so much. I hate you! I miss you David, I miss your eyes, your smile, that laugh that got us kicked out of the movies. I'm sorry I didn't come to your funeral, I wasn't ready to say goodbye. Because I know I can't and won't come back. I hope you found peace, because I never will. I'll never forget you, any of you. You changed me forever. Goodbye my David. I love you.
I gt up and run, out of the cemetery and away from my David. I won't come back. For I can only say goodbye once.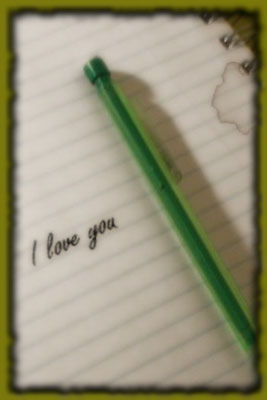 © Rebecca B., Marietta, GA