Now and Always Forever
March 31, 2012
When we first met you were just a stranger. We talked for a while, we said our good byes, but I just couldn't stand of never seeing you again. So I asked if we could meet here again. You said you would, and you kept your word.

We meet whenever we wanted, no one knew we were. Not even our friend or family. Two years passed we were both doing what we usually did, but over those two years my feeling grew more. I was never sure if yours did as well or not, so I wouldn't take a chance unless you did something.

You took your move, just as I was hoping. You asked me out, and I was so overjoyed that I almost painted a picture for you… we dated like every ordinary teen age couple. You even said you loved me, I always responded with the same answer. "I love you too,"

Two more Years passed, and over that time I was so sure you were the one and only one I would ever love.
Some day in the present year, I left my house to meet like usual. When I got there you were nowhere in sight. That was odd because you always greeted me when I arrived…. Like a gentlemen.

I waited and waited, you still didn't show.
I looked at the clock; it was 12:14 am… I didn't know so much time had passed by.
I grabbed my hoodie and began to head for the exit. Once I made it outside, it starts to rain.

I was so disappointed that you didn't show that I took advantage of the rain, and began to let the tears I held inside me pour out, letting them fall to the ground around me while I walked home.

The next day I received a text from my best friend in the afternoon. It had a picture with the text. It read "I'm sorry BB…, I saw them yesterday near midnight at our favorite club…" and there in the text was a picture of HIM with some blonde girl dressed with a really tight dress.

At that point I was just in a depressing mode… I wept the whole day.
Soon hours passed, then days. I wouldn't go anywhere without a friend, wondering why you did that, and hoping I wouldn't see you. My heart just wouldn't take it if i saw you right now, I was so sure it would break even more that you would look me in the eyes and act like nothing happened.
A week later full of silence, there was a knock at the door. I head to the door and open it. Standing in fount of me, there is HIM. Of all people it was HIM. You look me straight in the eye and ask why I haven't visited him at our usual meeting place.

I look at him with disgust. I tell him what my bestie should me.
He looks at me with confusion. A few second later he says "OH!..... I forgot to tell you...," "Tell me what?" I ask barely above a whisper, feeling as if there was something stuck in my trout that wouldn't let me talk.
"I forgot to tell you it was over…" he looked me straight in the eye and said that. Then out of nowhere he laughs!
Just for a second! But it was for sure a laugh! I then start crying again!

As his face gets blurry, but I tell him straight forward that "I loved you and this is what I get for loving you…" and close the door, where he stood….
~Months pass~
Since that day I haven't seen him, but now every week I get a rose in the mail with a note card with "Squishy" printed at the "name"…..

"Squishy" was that nickname I gave him….
For being a softy/nice guy…
Truth is I still love him just a little…..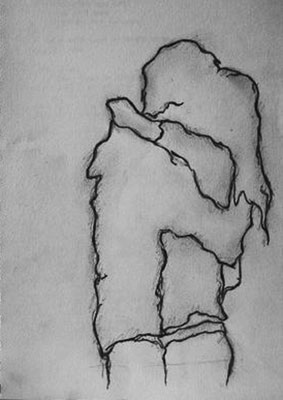 © Nicole B., Newcastle, WA