Release
November 25, 2011
Pace. That's all I seem to do now. As if my pacing will some how burn a hole in the ground, releasing me. As if it will solve my problems. No, that's not true. I pace and sleep. Sleep is the only release I have anymore. I could be any where, be any one, for those few measly hours.
They seem to think my body isn't punishment enough. Is it not the body of a murderer? Still it is tireless. The pacing helps.
But no, they trap me in a cell, as though it will help calm my body. Little do they know it is but stalled, waiting for the chance to enforce the pleasure, yet again. And I succumb to the wantings, for is it not my skin? Is it not my body that is carrying out these sins?
They think if I talk it will release me from my body's hold. But speaking makes It angry, restless. Wanting.
The night has no longer become my savior. Sleep does nothing to calm my relentless mind. My dreams are bathed in blood, dipped in sorrow. And yet my body shakes in glee during these nightmares.
The only release is to silence my body, my mind. But they seem to overpower the angel on my shoulder that is feeding me these thoughts. Never shall the monster inside me be silenced. Never will it be stopped.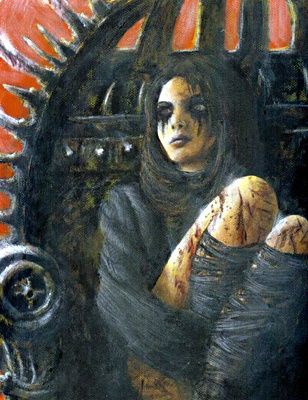 © Veronica N., Kenora, ON, Canada