Life in Stories
November 7, 2011
A girl sits on the corner of the street, guitar clasped tightly in her hands as she practices once again. She prefers to practice on the street, where people occasionally stop by and watch and listen. A boy, only slightly younger than her, stops to drop a crumpled dollar onto the pavement at her feet. She is not homeless, but she accepts the gift graciously. She will need all the handouts she can get if she does not get in to the conservatory.

I am anxious.

A man breathes heavily in the small room, hooked up to machines and drips and monitors that go off constantly. He tries to sleep, but the image of two fatherless children keeps him a perpetual insomniac. All he can focus on are the few minutes ago, when the room was bright with flowers and innocent smiles and "See you tomorrow, daddy." His chest rises up, tall like the Himalayas and twice as cold. It falls again, an effortless battle that continues on for the rest of the night.

I am tired of waiting to die.

The teacher stands in front of a group of children, his grey eyes following a particular girl as she wanders to her seat, disinterested and unaware. She pops a bubble of gum, sending her friends into stifled giggles. He overhears a whisper about beer and weed and parties and bedrooms, and he tries to concentrate on the equations in front of him. He looks up to call on her, only to find that she is no longer there. He vaguely remembers hearing about a student getting pregnant and dropping out of school, another one.

I am worried about my students.

The little girl sits at the head of the table, her curly hair in tight pigtails and her lips purple with icing. She happily reaches for a third slice of cake, urging her friends to grab one as well. They break out into yet another chorus of "happy birthday" as they smile and offer her their presents "mine first!" She rips open the toys she wants, and drags her friends into the bedroom to play.

I am excited!

A woman stands at the doorway, a toddler's fingers clasped in one hand and a baby on her hip. She attempts to chastise the twins for scaring the baby, but with her arms full she is hardly a threat to them. Her gaze, not for the first time in this hour, returns to the window. She wishes to visit her old home, or at least have her mother or sisters come visit. But she is tradition, and what her husband says is law. She didn't even choose her husband, she wants to scream, and he is twice her age. How is this a successful marriage?

I am treated like property.

The boy reaches for the paper, anticipating the life-changing feel of this hard car stock in his palms. The arty calligraphy that states, in over-exemplified words, that he did it, that he is free. The headmaster shakes his hand. Firmly, respectfully, as if all rowdy detentions and rugged past between them has passed now that he is a man. He saunters down the stage and into his seat next to Jennifer as the next name is called, for the first time in his life fully prepared for the next moment in his day. He is no longer a mere high school student, no longer slave to the stereotypes that come with adolescence, free from the mediocre cafeteria food and too-small desks. He is a man now, he thinks.

I am ready.

She races around the track, the resounding crack of her skates sending satisfaction rippling through her veins. She is the fastest here, weaving her way through the mob of women and artfully avoiding their flying arms and hips. Reaching for her comrade's arm, she takes a whip and goes flying around the corner, as the referee blows his whistle and marks her Lead Jammer. She deftly returns a blow given to her earlier, sending her victim behind her and her team three points ahead. As her hip makes contact with the women's around her, she is surprised at how content she can be at something, and how long it took for her to find something she is really good at.

I am exactly where I am supposed to be.

The boy reaches for the weapon strapped to his shoulder, his fingers too clumsy for the machinery involved. The weapon is almost as tall as he is, and he fumbles under its weight. His brother runs from underneath a bush near him, directly in a line of fire. As he watches his little brother fall to the ground, he manages to right the gun on his shoulder and aim haphazardly in the direction of his brother's killer. He hadn't paid attention to who slaughtered his seven year old sibling, but he knows that on the other side of the border, a grown man collapses to the dry earth. Not for the first time, he rushes back to the safety of his imagination, where he is back home with his mother.

I am too young for this.

She rises to her feet, grasping the letter in desperate hands. Her eyes swim, the professional characters in front of her dancing in the mid-morning sun. As much as she wants to believe them, she is half expecting someone to burst out to say "just kidding." That she is being Punk'd or something, but no one comes. She races to the house, where she grabs for the phone and ecstatically dials everyone she cares to talk to. Dancing around the living room, she turns up the radio for the first time in months. He's coming back home, from the Army station halfway across the world. She doesn't have to worry about him anymore, because he's returning to her, maybe for good this time.

I am so grateful.

The little boy tumbles out of his mother's car, which has lulled to a stop in respect for a red light. He lopes across the grass median, digging into the worn pocket of his jeans. His mother calls out for him to come back, but he is determined to reach his destination before the light turns green again. Fumbling, he finally makes it to the corner and hands the old man on the corner the crumpled up 5 dollar bill. Without a word, he dashes back to his mother, who is once again surprised at the world through the eyes of her son.

We are all alive.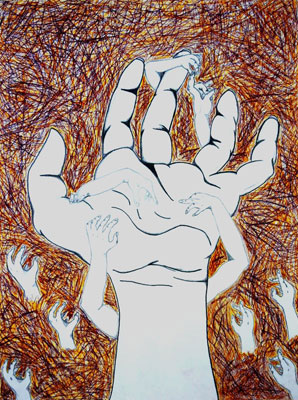 © Ariana R., New Orleans, LA