Hats On A Pig
October 19, 2011
"Umm...," I giggle pointing to Lulu, Marasha's pink, potbelly pig. "Is that a hat?"
It is. The pig's ears are sticking out at awkward angles under the miniature felt hat. I laugh. Marasha glares at me from behind her dark hair.
"God, Emma! Can't you understand?"
I shake my head, my blonde hair hitting me in the face. I spit out a mouthful and keep laughing.
"My life is so insanely messed up I just want to control something!"
I stop giggling. "How is it messed up?" I venture.
She flops down onto a stack of hay, pulling nervously at one of the pieces.
"My parents are splitting up."
It feels like she's punched me in the stomach. I've practically grown up around her house. Her mother was always so sweet, her father so funny. I remember rolling our eyes at his terrible jokes. I bite my lip, tears springing into my eyes. I look up, and the blue sky seem to blur, the white clouds mingling with the perfect azure blue.
"Why?"
She shrugs, "Why does anyone split up?"
I join her on the pile. The hay pokes into my back, tickling my spine.
Lulu butts her wet nose against my leg. I close my eyes, tears burning in the back of my throat.
On the ground, Lulu shoves off her hat.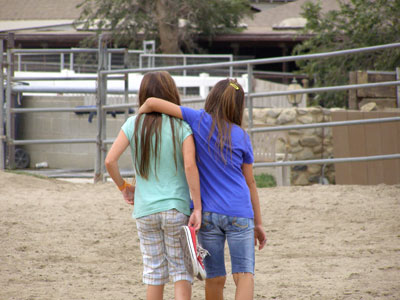 © Austin K., Studio City, CA