Postcards From Nowhere
October 5, 2011
The walls of his room are covered, every inch of them, with postcards. Shiny pictures overlap each other, displaying photographed versions of the Eiffel tower, the Great Pyramids, Florida's wetlands, and the snowy peaks of the Himalayas. He stands for hours, memorizing the slopes and contours of each and every piece of paper, remembering with clarity where they came from and from what year.

They overshadow the peeling paint and white-wash stains on the walls of his closet-sized room. He can see them all from the cot in the corner, which is the only piece of furniture in the room. Afternoon light streams in form the only dusty window, sending the room into a blaze of fanciful colors. They claim his room as his, marking the difference between their place and his. This is his room, he is saying, and these are his postcards. The ones his mother sends him, the mother who will come pick him up someday when he is big enough.

His things are all packed and ready to go, so that he is ready whenever she decides to come for him. They tell him to unpack his things and make himself home; that she is never coming for him, but he knows better. His mother isn't the sort to abandon him with them, to go to exotic places and not take her son along. She will come for him, he declares, and take him to Malaysia and Canada and China. He will come visit afterwards just to show them where he's been. His father will never doubt him again after that.

He would find her himself, but there are never any return addresses on the cards she sends. Just notes and stories inscribed in loopy, arty handwriting on the flip side of the pictures. He writes back, too, but because there is no return address he has nowhere to send them. He keeps his replies under his mattress, confident that he will give them to her when she comes. He always writes the dates, so she'll know exactly how old he is when she reads them. Not that a mother could ever forget how old her son is, of course.

She calls, sometimes, too. From mysterious caller I.D. numbers that cannot be traced. She sounds so distant over the phone; her voice is heavier and throatier than he remembers. He listens avidly, though, to her strange stories about native people and girls with bound feet. She always says she loves him, and he believes her as only a son can. She tells him that she didn't want to leave him with his father, but she had to for her job. She says she'll get the whole mess cleaned up and retrieve him from the average grip of his father and stepmother and sister.

His sister refuses to talk to their mother, claiming that she will only be inappropriately influenced by the lies. She insists that no one, especially their mother, can afford to travel to so many places. He knows their mother isn't lying, that she would never in a million years do such a thing. But his sister doesn't listen to him, and he can tell his father agrees with her. But he will continue to believe his mother, as long as the postcards keep arriving in the mail.

He believes this unfalteringly, until one day he will found a small store, right off of the freeway, where you can buy foreign postcards from all over the world, for 50 cents each. And he will realize you don't have to go anywhere to travel, that you can just purchase a postcard and make the world believe that you have been everywhere.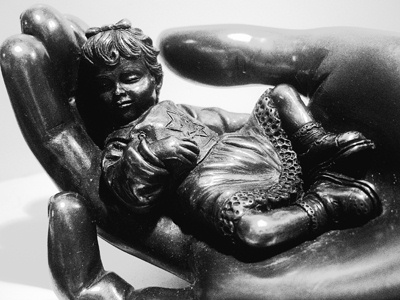 © Dat L., Worcester, MA