Making A Difference Wth a Wide-Angle Lens
October 4, 2011
Every time she visited another family, she felt the desperate need to throw the girls over her shoulder and get out of there as quickly as she could. This wasn't practical, though, so she contented herself with discreetly handing them a lawyer's business card and a bus fare. They always thanked her generously enough, and said they would use it but…she knew they would never leave. Whether it was fear or tradition that held them back, she would never know. But she saw too many burns and stab wounds and ligature marks to not give them the money and the card, to not at least try.

The camera clicks once again, the fourteen year old girl standing cautiously in front of it, not used to this kind of technology. She was half-smiling, exposing yellow teeth that had obviously not been brushed in a while. The flash hurt her eyes, and she blinked a few times, disoriented.

"Is that the last one?" Elsa asked hopefully, reaching down to lift a bawling toddler from the grass at her feet. The journalist watched her; aware of the exposing pictures she had just taken. This article was going to change the world, her boss told her, just tell the stories. And she did, but it always made her feel regretful. She was interrupting these people's lifestyles, ripping the Band-Aid of their anonymity and showing the world was really went on in the wee hours of the morning.

"One more." She replied, freezing the scene of mother and daughter forever. She hadn't bothered to have the pair smile, but at least they were looking at the camera. Only afterwards did she realize that the baby had no clothes on, and that it was probably not going to be published. What the editors thought was the last thing on her mind, however, as she asked the excruciating questions. She didn't want to hear Elsa's disturbingly true answers.

After she had finished the interrogation, she smiled and handed the girl the money and the business card, sighing when she remembered the child couldn't read past a third-grade level, and definitely not in English. So she read the card out loud, translating as best she could. The girl pretended to understand, and the baby kept on crying.

Curious faces peered out from open doorways, with big brown eyes and wide smiles. They were only children, not realizing the fate of growing up in this world. They thought nothing of the pale-faced visitor who wore strange clothes and spoke with a bizarre, clipped accent in her words. They were only curious; they wanted to rub their brown hands all over her pale ones, her factory-made clothes grasped in their thin fists. They were harmlessly interested in the piece of equipment she brought, the camera that they had heard about but never seen before she came. They all posed in front of it excitedly, fascinated with the skinny children that appeared on the screen. At first they didn't believe her when she told them that the tiny beings on the screen were themselves. She promised to mail copies back, so they could show off to their friends from the neighboring village. She chose not to tell them that she had already taken pictures of the girls from the neighboring village, and they had pictures too.

She knew she shouldn't be wasting film on the normal children, that the camera lens should be trained on the married girls (who were really only kids themselves), but the others were so innocent and inquisitive. She had to be able to bring happy photos home, too, to remind her that their world isn't as bad as it is played out to be.

Later, she would post the article on her website, and it would be published in the paper she worked for, and everyone in her area would read it on a leisurely Sunday morning and immediately leap to action in order to help these girls (not). But she would only be paying rapt attention to the half-hazard handwritten thank you letter, sent by a newly divorced fourteen year old mother from Ethiopia. She would think only of the misspelled words that declared her a hero, the misshapen characters that told her she had made a difference.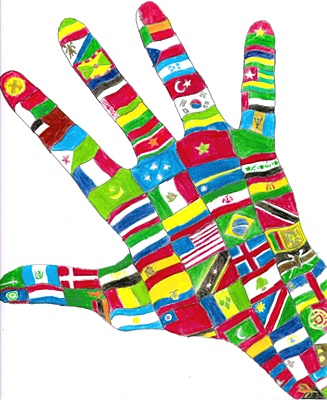 © Adeline N., Ridgefield, CT