Stop. Take Off Your Mask.
September 11, 2011
It was just another day at the mall. Walking with my three best-friends who were both deeply engaged in their texting, I looked around the mall as strangers glided past me. A punk looking boy with skinny jeans and black spiky hair was jamming to his ipod by the rail, looking deep in thought about something. Two giggly girls with short skirts holding Hollister bags gazed at him wonderingly. A family walked by with a screaming toddler strapped to a stroller and a young kid looking annoyed. A handsome guy strutted by seeing through everyone he walked by, just looking intent on getting on his way.
Suddenly, I got mad. All these people that past me by, I may never see again. I wondered, what their story is. What are their problems and their hopes, and what if they will die tomorrow, or live to be the oldest person on earth? Should I just go through life not knowing these people, and let these people walk by me wearing a mask, a mask that hides them? Because I believe under that mask, a story is in their eyes, and it's up to us to read it.
"Stoooooooooooop!" I screeched.
Nothing moved. Everyone went still. The handsome guy looked at me startled. The punk guy pulled his earphones out and stared. The two girls looked amused. My friends look horrified. Everyone under us, on the other level, stared up at me. No sound escaped my mouth. I was scared. Suddenly, I was mad again. I strutted over to my friends.
"Get off your da** phones. There is more to life than that. Look around you before life passes you by! Get your head out of the clouds." They looked shocked. I walked over to the punk guy.
"What happened?" I asked.
He looked away. "My girlfriend was cheating on me." He said loud and clear. I turned to the family with the toddler.
"What happened?" I asked.
The little boy looked at me and said, "Ever since my little brother was born, my parents never pay attention to me." He responded somberly.
"What happened?" I asked the two girls.
They looked sad. "We both bully people at school, but because if we don't, we will be the ones bullied."
I looked over to the handsome boy. "What happened?" I asked him.
He put his head in his hands. "My dad wants me to be perfect, and I'm never enough. I don't know how to tell him that I'm in love, I'm love with a guy."
They all looked at each other in wonder. And then everyone was in motion. Everyone was on their way again around me, and I pulled myself out of my day-dream.
"Come on Kennedy! We got shopping to do. I want to find some cute shoes from my outfit." My friend said.
"Okay" I said absently.
The punk boy looked straight at me with a certain look, and I wonder if it had been a dream at all.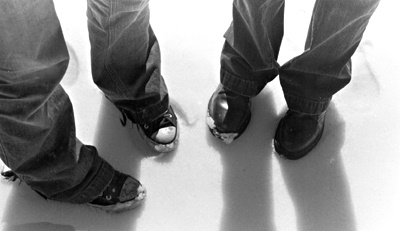 © Elana N., Marblehead, MA