The Summer I Met Ami
September 9, 2011
I stare into the bright, sunny day. The garden looks marvelous, the sun is shining. What more could a 14-year-old girl want? A lot, I think angrily. For instance, why can't mom be here? Why did she have to choose this summer of all summers to take that TV job in New Mexico? Why am I stuck at this farm in Louisiana all summer with no phones and no Internet access? I shake my head, and my bluntly cut red-brown hair falls into my face. I shove it back agitatedly, (note to self: get hair cut next time we drive the 30 miles from our bayou-style farm to the town)

To make things worse, I haven't gotten a letter from my best friend Sammi all summer. Did she replace me with someone who was actually there? I puzzle over this for a while, wondering what other mysterious cause could force her not to write.

I am so absorbed in my thoughts that I don't see the flash of orange somewhere near my ankles, nor do I feel the tickle of soft fur on my skin. But I do hear a loud and impatient "meow" coming from under the swing chair. I lean over to pick the cat up.

He's a thin, light stray who looks in need a meal or two. With the cat under my arm, I race into the kitchen and open the fridge. I survey the contents critically – it wouldn't do to have my new companion's first meal be old green beans – and after a while decide on last night's meatloaf, which is about the only thing that looks fresh enough for a cat.

He eats the whole thing. When he finishes, he looks at me, purring, as if to say, "Thank you, thank you, thank you!" I smile for the third time this summer and decide to call him Ami. One of the three words I know from eighth-grade French. Friend.

My dad ruins my cheerfulness at dinner. We're eating his favorite franks and beans, when he lets the bad news drop: "We're leaving tomorrow to join your mother in Santa Fe. You'll have to pack your stuff – or what is it that girls your age have, eyeshadow? – tonight."

I sigh. My dad knows that I hat eyeshadow. I pick up my plate and run it under the rusty stream of water spouting from the sink.

Then reality hits me.

"But, Ami…"

"That mangy stray? You can't take him!"

"But…"

"No buts. We're leaving."

We awaken early the next morning. Dad packs the car while I search for Ami to say goodbye. I catch a glimpse of him, sitting upright on the garden wall, and whisper, under my breath so that my dad can't hear, "Goodbye, Ami. I'll miss you."

And somehow, as I watch him run off into the mist, I know that next summer when we come back to the ranch, he'll be sitting on the garden wall, waiting for me.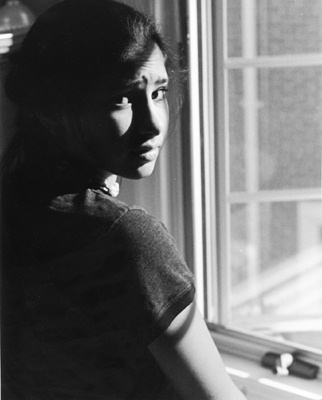 © Jennifer H., Bethesda, MD