Mel's Story - Finale
August 6, 2011
She reached at the grass and pulled out several blades, as if digging up her memories from the earth itself. The sun warmed the freckles across her nose, her frizzy blonde hair full of barrettes and braids and happiness.

A woman with endearing eyes sat across from Ezra, sharing the same snack of string cheese and boxed apple juice.
"It's alright," the woman whispered carefully, "you don't have to tell me anything you don't want to."

Ezra shook her head cautiously and gave one of her infamously carefree smiles.
"No, it isn't like that. It isn't like that at all. My real mom is my adoptive mom, and I know that. My Mel wanted me to know that. See she gave me a Silly Sad box before I could even think my own thoughts, and whenever I'm sad I just open it and talk to her through it. It's full of photos and letters and CD's she made, and even some of her singing to me. It's a magic box that turns all of your sad thoughts into silly ones."

The woman put her pen and paper aside, interested in the unusual tone Ezra had. For an adopted child, birth parents are usually a touchy subject once they get older, but Ezra spoke with forgiveness and understanding that she'd never felt come from a child before.

"So how do you feel about her, your birth mother?"

"She doesn't like me calling her that, and neither do I. She's My Mel. She taught me a lot of things while I was in her tummy, so that when I was born I'd already know them. Like how to pick a good pair of shoes and how to make plants grow. She gave me a new home so that I could share my smiles and my love, she said. She felt like I was just so special that she had to share me with the world, even if that meant we couldn't see each other for a while... but I've got a mission, you know?" Ezra stood from her spot and placed her fists against her hips. "Somedays I have to remind the sky that she's beautiful so that she won't fall down, and sometimes I get to teach dogs and cats to get along with each other, but mostly I just like to help. It doesn't matter how. My Mel told me that's my gift, and that you're s'posed to give back what's been gifted to you."

Ezra spoke with such assuredness, such fortitude that the woman wasn't sure what to say. In fact, she wasn't sure if she should say anything. The woman stammered for a few moments, then came to peace with the fact that she had no words to match the magnitude with which this young girl beamed. All she knew is that she really did believe her, and her My Mel.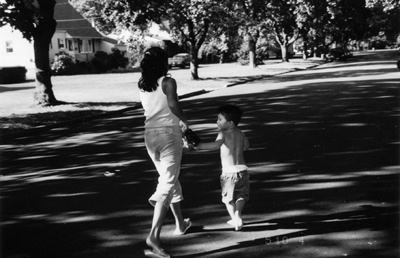 © Angelica M., Pequannock, NJ