On My Way
July 27, 2011
They say bad things happen for a reason. Oh, so is that why my whole family seems damned? My brother got shot, my sisters on drugs, and my dad loves the bottle a bit too much and I guess it all happened for a reason. When you know the reason, I'd be ecstatic to know.

Now I know what you are thinking here. This is just another story about some emo rich kid who thinks their life is hell. Well it is not. For one thing I don't cut myself. Secondly, I am not rich. My foster parents are, but me? I'm sure they would buy me something if I wanted it, but I don't. Plus I would feel like I had to pay them back. I don't want to owe anyone anything.

My "mom" is Julie. Julie Sanders. I call her Julie because Mrs. Sanders upsets her, but I cant call her mom, she's just not the mom I knew. Julie has a very good relationship with her husband. They are quite perky people really, they squabble every once in a while though, but that is okay, it makes me feel more at home.


Since I just moved in they keep fighting about what high school I should go to. They are both private school so I doubt they will give me a say. If they did I would say the closest public school. Then they would just repeat what they said earlier, that I had magnificent grades, that I am a brilliant girl.

I had never really thought about that. I guess I am, but I had to throw myself into something before I ended up like the rest of my family. No way was I going to lose it like them. I was never going to drink, do any pill or smoke something. And I was not going to get myself shot in some stupid gang fight. I wanted out, and my ticket out of this self-consumed town was school. I was going to college, I had to.

"What do you think darling?" Mrs. Sanders asked.

I thought she was talking to Mr. S. but a moment later he said my name and snapped his fingers to get my attention, making me jump. I realized they were waiting for a response from me.

"What?" I asked playing dumb, maybe then they would drop it, I really didn't care which freaking private school I ended up at. No such luck though.

"Where would you prefer to go to school?" she asked.

Okay, I knew Mrs. S was trying to be nice but lets face it, she wants me to pick he choice. Well I decided I wasn't picking sides if that was the case.

"Whichever." I said with a shrug of the shoulders.

Mr. S let out a sigh.

"Fine, she will go to Hultons. Case closed. Now hand over the forms, they have to be in by Tuesday." He told Mrs. S. She had a smug smile on her face because she had one the quarrel.

School started in a week. I was totally in for hell, that I was absolutely sure of. I mean come on, a private prep school when you have a huge messed up family? I was hoping for more of an enormous public school.

"I just had a brilliant idea!" Mrs. S. suddenly exclaimed with way to much enthusiasm to be a random idea. She was totally testing the waters.

"Why don't we go out to dinner!? She asked

Oh boy, saw that one coming.

"That's a wonderful idea darling!" Mr. S said as he leaned over kissing her on the cheek. It was weird to see two people affectionate like that. I decided they were not such bad people to get stuck with, but I wasn't going to get too comfortable. I had heard foster families could change in the blink of an eye.

When we were all heading out the door one of the neighbors saw us and called over to the Sanders. The lady had one of those shrill voices that got on your nerves in about thirty seconds flat. I tried to avoid being seen but that wasn't working obviously because she asked who I was when she had walked close enough to make out the outline of a third person.

Now that she was closer I noticed she appeared to be a nature lady, a rich earth lady. Ironic that she had four cars in her drive way? I think so. I hate hypocrites and already that is what she appeared to be.

"Melanie, nice to meet you." I said in a flat monotone. I really could careless about her, I had already decided my ultimate goal was going to be school.

When we got in the car my "parents" didn't say anything about how I had acted. They must be giving me a break since its my first day and all.

I'm not gona go into details about dinner. It was good but pretty awkward and silent, but that's okay, I don't like to talk all that much anyways.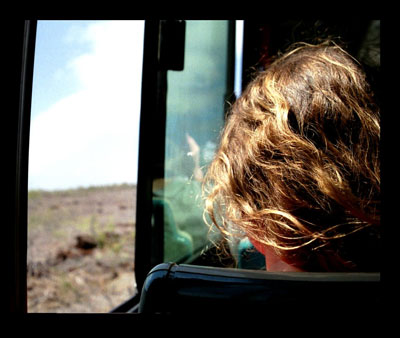 © Kate S., Hopkinton, MA