Firefly Jar
June 7, 2011
They'd went out to catch the fireflies the day before the Fourth, using her old butterfly net (they hadn't asked) and an empty jar that used to hold pickles (she'd eaten the last one). She'd heard them thundering out the door, laughing. They didn't see her standing at the top of the stairs in her pajamas, clutching Murphy in a sweaty fist.

They usually don't see her, or take her anywhere, ever. "Too little", they say. "You can't keep up." Or: "You'll be bored. Stay home." Maybe even "It's your bedtime now." Always an excuse, and a sorry she knew they didn't mean.

Either way, they had run out the door happily, the jar with mesh over the top instead of a real lid. And when they came back, that empty, black hole jar was filled to the bursting with little pieces of light. They'd marveled at it, admired it, grinned at each other, but only she saw the truth: the light was hurting. Murphy knew, too. He'd nodded his fluffy, floppy head at her insistence. The light didn't deserve to be trapped, she and Murphy agreed.

So they made a plan. And now she was standing outside, warmth rushing over her hands, caressing that jar of light in them. Murphy flopped against her feet. He was watching, waiting for her to do what she'd said she would.

The little pieces of light gleamed and blinked and fluttered. How perfect it all was. She liked knowing that she was the one who held this beauty. The jar glowed brighter than the stars. She smiled at it. She watched its corona floating over her hands. Crickets twittered in the background, grass wet and dewy and slippery under her bare feet. The light blossoming.

She could feel Murphy watching her disapprovingly.

Oh, but how pretty it was.

She pulled off the mesh anyway.

The light burst forth, liberated, exploding out the top, streaming away. The little fireflies swam out, flooding toward the stars. Like fireworks, the most beautiful fireworks in the world. The jar was empty again, a black hole once more. She looked down and adjusted Murphy so he had a better view of what was going on.

The light was almost gone now, just specks in the distance. Her hands were cloaked in darkness. But that was okay.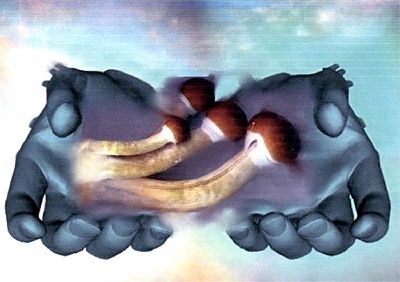 © Brad B., Colorado Springs, CO