School Shooting
May 18, 2011
Fear spread through my body as I ran down the hallways. Several shots were heard over the screams of other panicked students and my racing heart. We didn't care that we were trampling other students in the process of finding exits and hiding spots; we were only thinking about ourselves and if we would survive this horrific event.
A hand grabbed my arm and I was thrown onto the tiled floor as a guy ran over me. The shots were getting closer and I was nowhere near the doors to leave this tragic place.
I looked to my right, finding the school library. Trying not to get knocked down, I made my way for a hiding place. I tried not to think about what might happen if I got caught. The door to the library was open as I rushed inside.
I wasn't surprised when I saw the panic stricken faces of several other students, hiding under desks and behind bookshelves. We all had the same fear.
I ran to the back of the library, trying to find a safe place. Only thing was I didn't think that any place in this school was safe. I leaned down and crawled under a computer desk. Holding onto the leg of the desk, I closed my eyes and listened.
Screams could be heard, along with several shouts of names. The girl beside me had taken her cell phone out and was on the line with what sounded like her parents, crying out the words "I love you".
The sound of gunshots got closer, until I heard the door to the library close. I gripped tighter onto the desk; closed my eyes and waited for what was bound to be coming.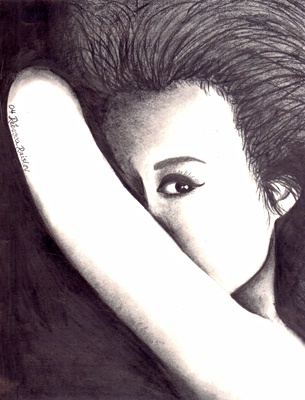 © Rebecca R., Edison, NJ