Very short story
April 29, 2011
I am sane. I am sane. I am sane. Forgive me, God. Forgive me, world. Forgive me.

And yet they lead me slowly to the table, where I lay, prone and open, and look at the doctors who will go home tonight and eat a big dinner and kiss their wives hello and hug their children and trip over little toddler toys and curse about it. Every day they'll come home again and again and again until their hair gets gray and white and their skin wrinkles into a thousand little folds of life, and their wives will be hunched over and small and pale, and then they'll die and their children, all grown up, will be eating dinner and kissing their spouses and living their lives.

And I'll be dead.

The needle is sharp and cold as they push it slowly in. I see the fluid gently work its way into my veins, and the first waves of sleepiness take me. There is nobody outside the bars to witness my death. Will he come? This isn't supposed to happen, me sleeping. He said he'd help. This isn't supposed to happen. Oh, God, please let him come. Please. God, I don't want to die. God! Just another few minutes… a few minutes… another few… minutes… a few…

Black.

Gray.

White.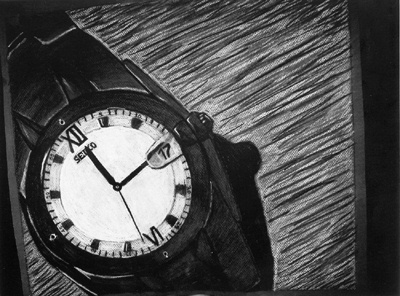 © Rachel U., Danbury, CT