Behind that Smile
April 27, 2011
I was crying last night. Could you tell? I doubt it. My room was pitch black and we were on the phone, so you wouldn't have seen either way. I breathed through my mouth and spoke slowly, so you wouldn't hear my sniffles or the slight shake in my voice.

I was ashamed that I was crying. Especially since I knew you weren't.

I wish I was like you. I want to hide my sadness the way make-up hides my flaws. I want to block out my pain the way sunglasses block out the sun. I want to brush off my problems like dandruff sitting on my shoulder.

I wish I had a mask. One that smiles for me when the effort is just too much. One that evaporates my tears before they stream down my face and auto-tunes my voice when it's in danger of cracking. One that I'm sure I won't find at Party City.

I wish I had an ice-maker. I want to build an ice fort around my heart. I want it to freeze the emotions that make me weak. To numb the ache that will never go away. To protect myself from future pain—future weakness.

And if all scars were visible, then I'd wish for a leather jacket. One that makes me look tough as I wish I was. With sleeves so tight that they are impossible to push back up my arms. I'd run a thread through the teeth and zip it up to my neck so no one will ever see what lies beneath. Because once that's exposed, so am I.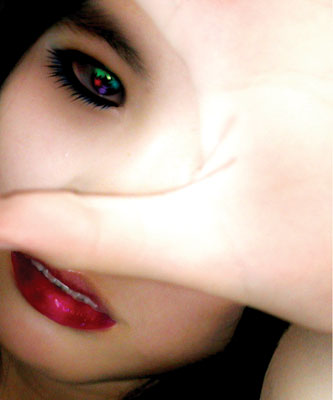 © Victoria W., Arcadia, CA