Manipulative
March 15, 2011
She was needy. She was broken. And she believed every word I said.
The deep ink-blue sky soothed my aching eyes from the brightness of the day that had disappeared. The sparkling stars ornamented the blue blanket, shining like her green eyes in the morning. I inhaled the crisp, almost cool air, then glanced over at her laying beside me. Her caramel brown hair cascaded down in ringlets to her shoulders. She smiled at me, her teeth shining with a pureness that could not be found anywhere else.
That was the happiest night of my life. The night I had asked her to marry me. When she said yes, she told me that she would never again be as happy as she was right then.
And she was right.
With every night I came home late, she waited. The dinner was always freshly cooked, warm from the oven. She would kiss me and told me she loved me. We would go to sleep at the same time, even if it were one in the morning and she had work at five. But she didn't care. I see now that she deserved someone much better than me.
She never knew about my cheating until I didn't come home one night. By the time I was back, she had gone to work. I didn't see her again until ten that night. She was kind but firm in her asking.
"Honey, where were you? I was scared to death."
"Laura, I was working. Something had to be done at the office."
I now regret the lies.
The fourth time I was gone for more than a day, she confronted me with absolutely no kindness. Her mother was over, sitting in the kitchen. She tried to stop me from hurting her daughter. I lost control. I no longer held any love for her.
Now I sit broken in this cold corner of this grey cell. My days are filled with my senses blinded. The last time I saw her, she was stronger. Our divorce had gone through just after her mother's funeral. As she took the witness stand, I noticed that she was dressed in jeans and a shirt that accommodated her bulge. Our baby. I never knew its name. She shut me out. Her green eyes had turned to a cold grey that day. They held no sympathy for me. Just justice.
My days are numbered. I don't even care that I am to serve the death sentence. I just count the few days I have left to mellow in sadness, to feel numb from the rest of the world. Waiting for the end is worse than living it.
One. More. Day.
Twenty more hours.
Twenty more minutes.
Twenty more seconds.
My eyes managed to catch a glimpse of our baby- a son, I think- before my world went black.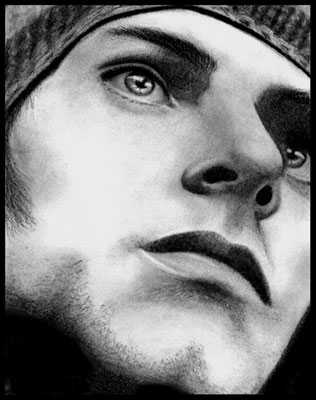 © Anna Y., St. Robert, MO