My Fault
February 15, 2011
I walk into the bright white room. The sounds of breathing machines, heart monitors, dialysis.....
Everything but the sound of your voice, your laughter even your whine! You don't even smell like the
normal you. No talcum powder or expensive perfume. Just disinfectant and anaesthetics. This isn't you.

I remember the day you admitted to sleeping in a funny position, the way you had to put your shoulder against your
cheek, your knees against your chest. But this time you didn't choose to sleep this way. You slept as if you were
placed there; straight as a plank across the bed, no funny shapes.

I walk over to you casually, placing my hand over yours. Stone cold. No warmth, no softness. Just hard and cold like
a corpse. The over-starched sheets scrape my face as I place my head against your chest, listening for a pulse.
But the useless machines drowns it out. I stroke your face gently, urging your muscles to smile; just one of your
sunshine smiles and I know you would wake up. But again nothing.

This somehow seems to be my fault. I know it. I put you in this plain, dull hospital. How couldn't I of even seen the
signs of your depression? Your weight loss? I was caught up in my own so called, 'problems' to even notice you.
How stupid of me! I am your best friend! No fun loving teenager should be put in a place like this....and it's all my fault.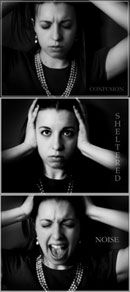 © Michelle B., Blairsville, GA