Eyelash
January 23, 2011
I have way too many eyelashes.

My family tells me it's beautiful. My friends tell me their jealous of them. But I know it's true.

They fall out all the time, irritating my eye at the worst moments. Big presentation to give to the class? Eyelash is there to save the day. Or, rather, ruin my grade.

"You have a lovely speaking voice." There's Mrs. Rockley, with her extra twenty pounds of make-up. "But you really shouldn't rub your eyes while you're presenting."

"I had an eyelash, ma'am."

"Yes. Well, you got a B+. Once you beat that bad habit, your grade will definitely improve."

So now my eyelashes were interfering with my grade. Maybe I should just pluck them all out. That would be easiest, wouldn't it?

"DON'T EVEN THINK ABOUT IT!" Christy won't even let me jokingly refer to the idea. As my best friend, she claims to have my best interests at heart. But I'm not so sure. She would feel the same way if she had eyelashes that were constantly falling out and jabbing her eye out.

I see Brian in the hall at school. "Hey," he tells me.

"Hi," I reply, shifting my books nervously.

"So… I was just wondering. Do you want to see a movie some time?"

YES! I want to scream the answer at him. OF COURSE! DUH! I HAVE A HUGE CRUSH ON YOU! I'm about to reply something like, "I'd love to. What time?", when my buddy Eyelash decides to attack my iris.

"Are you okay?" he questions when I fail to answer.

Of course, I'm too busy rubbing my eye to reply. Ow. Ow. Ow.

"Uh… are you tired?"

How much more of a geek can I become? "Oh, sorry. I have an eyelash in my eye."

"Well, you have so many of them; I can see how they would fall out."

"Yeah." I rub my eye a little more, then realize he noticed I have a lot of eyelashes. Which means he must have been staring at me… probably when we were paired up as partners in chemistry lab? Which means… Jeez, he thinks I'm pretty? Maybe?

"So… about the movies…" I feel bad about making him stand there all awkwardly. "I'd love to go. What time?"

"Um, the movie starts at five… so four? So we can grab something to eat?"

"Sounds good to me." Ow. Stupid eyelash. I'm such a geek, standing here rubbing my eye. "See you at four."

"Okay. Awesome." He turns halfway, as if he's about to leave—then turns back. "Annd for the record, I think your eyes—and eyelashes—are really pretty." Then he's gone.

And suddenly my eye doesn't seem to bother me as much.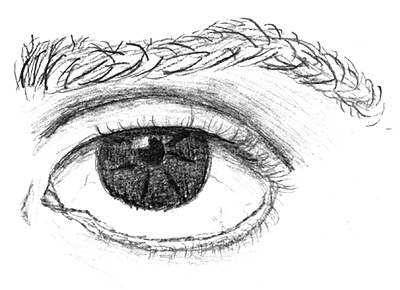 © Anthony R., Wilmington, MA