Christmas Miracles
January 11, 2011
"What do you think he's asking for?" Abbey asked hesitantly.
"Probably a fire truck or something," Brian replied gruffly, "you know how little kids are…"

She nodded, ignoring his apathetic tone; instead, she focused on their little boy, who was still whispering his Christmas wish into Santa's ear. The man in the red suit's eyes slipped from the child's gaze to meet hers, flitting quickly over to Brian, who had just answered a phone call. Santa's brow furrowed for a moment, then returning his attention to Charlie, he grinned and nodded, a hearty ho-ho-ho rising from his plump stomach.

Charlie scrambled from his lap to Abbey and Brian, with a goofy grin on his flushed face.

"What'd you ask Santa for?" Abbey asked him, involuntarily reaching out for his hand. "Anything good?"

He scowled. "I can't tell you, or it might not happen!"

"Charles, that's true for wishes, not what you ask Santa," Brian said bluntly, rolling his eyes. Abbey shot him a glare and clenched her jaw. He shrugged.

"It's a Christmas wish, sweetie," Abbey said defensively, spitting out the last word like it was some kind of acid on her tongue.

"When we get home, can I have some hot chocolate?" Charlie eagerly asked.
"Sure, anything you want Charlie."

***

Christmas morning came, and the little patters of feet flying down the stairs awoke the household at six in the morning. Abbey followed him quietly, sipping on coffee.

When she reached the bottom of the stairs she was surprised to see Charlie sitting under the tree, seeming to be waiting for something.

"Where's Daddy?"

She sputtered on the coffee. "He slept over at a friend's house. Aren't you going to check your stocking?"

He shook his head. "What I asked Santa for can't be wrapped."

The scenes replayed in Abbey's mind: the odd looks the Santa had given them, Charlie's stubbornness to keep his wish a secret, his strict instructions not to read his letter—what had he written to Santa about?

She remembered his letter was upstairs, and slipped away to read it while he ate breakfast. There were crinkled spots on the paper—from water marks or frustration, she didn't know. His writing was scrawled across the page, words dark from the pressure asserted by his pen.

"Dear Santa,
All I want for Christmas is one thing. You see, my Mommy and Daddy have been fighting a lot. Mommy says Daddy is sleeping over his friend's houses, but no one else's parents do that. I don't think he'll be with us for Christmas. Where will he open his presents? I hope you find him to give him some. Anyway, do you think you could make them friends again?
With love, Charlie"

Tears slid down her face as she finished the letter, and for the first time in her life, she wished for a Christmas miracle.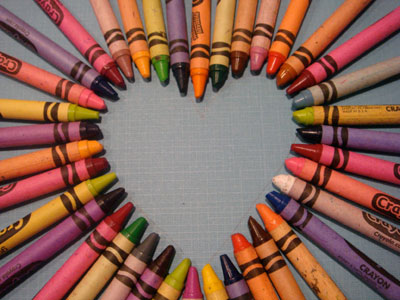 © Ashley W., Rockford, MI