Grateful
November 17, 2010
Some days, I wished I could've been anyone but me. I hated parts of my life: my messed up family, the divorce, the alcohol, the abuse that no one ever spoke of. Everyone ignored it; pretending it didn't exist. Everyone pretended, except for me. That made me the black sheep. That made me the outcast.

At school, I was too quiet. I sat in the back of the classroom, never speaking except when spoken to. I always had a book with me. I never put my nose into anyone else's business. I didn't want to risk anyone putting their nose into mine.

At home, I was too vocal: too loud, too opinionated, too… emotional. If there was one thing they tried to stomp out of me, it was emotion. They didn't want me to talk about everything. They didn't want the rest of the world to see them how I did… for how f***ed up we really were.

On the outside, we were picture perfect. Big, strong father; doting, sweet mother; pretty daughter; stellar, athlete son. We lived in a nice house in a nice neighborhood. We had a dog. We went to church on Easter and Christmas. My mom was on the PTA, my dad coached little league.

On the inside, we were rotting. We were ruined and broken, the pieces and shards of a family once left behind. Nobody on the outside heard the screaming, the yelling, the blasphemous cursing of God and everything on the earth. The breaking of glasses, the splintering plaster of the walls… no one ever saw that.

No one saw the bruises that made their homes on my arms and torso. I wore turtlenecks to hide it. No one saw the singed hair or the burn marks. No one saw the marks the razor had left in my wrist when I dragged it there.

No one came looking when I left. I found myself in a strange place where no one knew my name, a place where I could be whoever I wanted to be. I made a friend whose background was like mine: broken. She was expecting. She was not alone.

Her daughter, my goddaughter, was beautiful. The most beautiful baby I'd ever laid eyes on. She was my reason for staying alive. She was my reason for not going to deep, not going to far. She was my reason for life. She and her mother had saved me.

I was in university when he noticed. He was the godfather to my beautiful goddaughter. He was sweet and kind. He saw the scars and looked at me with questions in his eyes. When he finally voiced them, I ignored him.

He asked again… and again. He asked until I was forced to listen. He asked until I had no choice but to answer. I told him, I told him every single painstaking detail. Everything. The cigarettes, the lighters, the razors, the screwdrivers, the fists and the feet. I was shaking as I told him. No tears fell until the end.

When I finished, I expected to find disgust. A goodbye that was brief and meaningless, as my life had been full of them. Neither of us spoke. He swept me into his arms and held me as I cried. He kissed every scar, every patch of skin that had ever been marred by bruises or scars.

"You are beautiful." He said in a soft voice. He was the only thing keeping me from going to the floor. My legs were like jelly. "The days of being told otherwise are over."

He was right. The days of being screamed at and degraded, the days of picking splinters of glass and icing swollen joints were over. I had been the girl with no friends, now I was the girl with a best friend, the girl with a goddaughter, the girl with a boyfriend.

The little lost girl was left behind the moment I left that house. I am no longer anything like her, but every now and then I think of her and wonder, really, really think about what would've happened had I not left. Would I be dead? Would I still be at home? Would anyone have found out?

I am a different person now. I am a young woman with a life I am proud of, with people I love and love me. I hated parts of my life, but I am grateful. If I hadn't hated them enough, I would never have been blessed with the people who shower me with love every day and make me feel like life is worth living. And for that, I will be eternally grateful.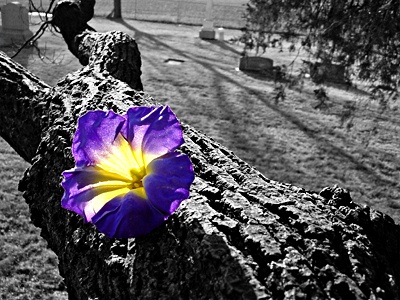 © Greg K., New Lenox, IL