Heart's keeper, Chapter 1
October 25, 2010
I pull my sweatshirt sleeves down lower hiding all the scars. I plastered a fake smile on my face and looked up at all my friends. My best friend Kaden sat next to me and was still looking at my sweatshirt sleeves, she was the only one who knew. She was the one who got me to stop cutting. I looked at her and shook my head, and we turned back to everyone else. " hey we are going to Jesse's party ya'll going" Staci said.
" ummm no i don't think so" Kaden told her.
She knew me so well, she knew i hated parties and home. She knew I would probably be at her house tonight to get away from my screwed up family. "well I am gonna get going see ya'll tomorrow" i say grabbing my bag and heading out the cafe door.
In the school hallways i felt safer from the watchful eyes of many people. i slid my sleeve up just a bit and looked at the puckered pink skin. there were so many there on one wrist. Then i find myself on the cold tiled floor. " ohh i am so sorry" i heard a boy say his voice was unfamiliar.
"it is okay" i tell him.
I look up as his hand comes down to help me up. i grab his hand not realizing my wrist is uncovered and turned up. He has a nicely built body and a angular face with smoky gray eyes and shaggy black hair. he wore a black t-shirt and a pair of skinny jeans. i also noticed he had a freckle on the corner of his jaw by his ear. "hello i am sam" he smiled.
He had a gorgous british accent. "hi i am everlynn"
"well it is nice to meet you" he said and then looked down at my hand then trailed down to my wrist. I followed his gaze and realized my scars were showing, I tried pulling away, but he wouldnt let go. "why did you do that?"
"it was a long time ago"
"why did you do it"
"life was wrong i was diagnosed with depression"
He finally let go of my hand, and i pulled the sleeve down. "self pain doesnt make things better"
"i figured that i and that is why i dont do it anymore"
"it was nice meeting you hope to see you again, love"
"love?"
"its a british thing Love."
I smiled and watched him walk off. i headed off down the halls and off to the parking lot. The small red toyota camry was parked next to a big tahoe. and on the other side was a black motorcycle. "hey love checking out my motorcycle"
i turn around and find Sam walking by.
"uhh no actually i am getting in my car"
"well"
" what?"
"wanna ride test my bike with me?"
"haha ahhh no"
"why not Love... Dont trust me?"
"maybe , maybe not, Anyway i have to go"
"well maybe later... Bye love"
I watched as he hopped on his motorcycle and sped away. i waited a minute then got into my car. The drive to my house was slow and cold i could hear mom yellling when i got out of the car. "DARYL GET IN HERE AND CLEAR OUT THE BOTTLES!"
I sighed and closed my eyes. "EVERLYNN GET IN HERE!"
I climed the four steep stairs and into the heated house. "EVERLYNN WHAT TOOK YOU SO LONG!"
"god mom chill" i mumble
"chill... you where suppose to be home earlier"
"it was not that long"
She moved fast like a cobra, her hand slid across my face like a tiger running for a meal. My face burned and as i could tell it was red. "dont back talk me girl" she shouted.
"i hate you!" i yelled and ran off to my room.
I sat on my bed and pulled out a small velvet pouch. Inside i pull out a small razor blade. I fell hot tears run down my face. I pulled my sleeve up to my elbow. I looked back and forworth from the blade to my wrist. I held the blade close to my wrist, and thought about what Sam told me.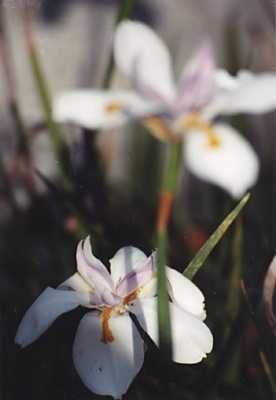 © Rusty P., Balch Springs, TX