Sleeping In
October 12, 2010
I was a good Catholic girl. Church on Sundays. Prayers at night. Always thanking Him for everything He ever gave me.

But like Taylor asks, who is He? Or what if He's really a She? How do I know He's even there? What did God ever do for me, that I couldn't do myself?

Taylor is agnostic. So he believes in something. Just not God . . . not our God, and everyone seems to think that's a terrible sin. Mom says I shouldn't hang out with him, like he's going to sacrifice me to the devil or drink my blood. Even if he was an atheist, I wouldn't care, because Taylor told me about this idea called coexistence. That means that everyone gets along, despite what religion they believe in. It means that even though I'm Catholic, and he isn't, we can still holds hands at the movies. So we do.

When Taylor asks why I go to church every Sunday, I tell him it's because I want to be a good person. I want to go to heaven. Taylor doesn't believe in that, either. Or h***. He thinks that when you're dead, you're simply dead, and that's it. We agree that we want to go to the same place, whatever it is, so we can be together.

"I think heaven sounds boring," he admits to me, and I'm suddenly reminded of fallen angels. I don't think I'm supposed to find them so intriguing.

Mom allows me to bring Taylor to church with us. She's hoping that it will be some sort of spiritual awakening for him. He dresses nicely, and smiles hello, and keeps his head down respectively when we pray. Still everyone glares at him like he's doing it all wrong. They've heard Mom talk about me and him, and know he's not "one of us." They whisper about him like he's unequal, and act like he's not even human. Our church is always saying "all are welcome," but in fine print below, it should say, "but we want to convert you." Taylor isn't offended; he's used to things like this, but says he doesn't intend to come back. I hate them, for shutting him out.

The next Sunday, I decide to come down with a twenty-four hour stomach virus. It feels good to sleep in and I wake up that afternoon, and I'm not dead, so I know God must not be angry with me for skipping church. I help the old lady next door carry in her groceries, and realize that I can still be a good person, without going to church.

Taylor says I don't have to give up what I believe in for him. But I just smile and tell him that it's what I believed in. Now I'm not so sure.

I like sleeping in on Sundays and getting out and doing things to fix my problems, instead of praying to God to make things better. And I get to see Taylor more. We stay up late on Saturdays, and we still talk about religion a lot, trying to figure out who's right, if anyone. We're starting to decide that maybe everyone is wrong. All we know is that we're doing what's right, not letting anything come between us.

In homeroom, when we recite the Pledge of Allegiance, Taylor leaves out "under God." To him, it's just one nation, indivisible. He smiles at me, and I do the same. Together we pause between the words. Indivisible.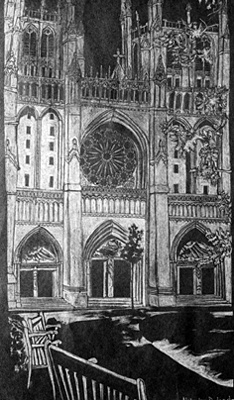 © Alejandra D., Kannappolis, NC