Something In The Mist
September 12, 2010
Throwing her bag down onto the floor she burst into tears. It was too voluminous to take; the stress it added to her system was abundant. She loved him! She'd entrusted him to her virginity for god's sake. The overwhelming desire to console in someone overrides her system. She hurriedly turns on the computer and watches as it comes to life, the monitor flickers by the usual images. Once greeted by her desktop she proceeded to turning on her IM.

Murmuring a silent prayer that she's home and logged on as well, she quickly endures the pain of having to retell the gruesome tale. WHY! Why couldn't she have been more responsible, her friend obviously was! Yet the thought of having to endure without him was unbearable. It always happened. When she fell for a guy and reveled her true emotions, they used her. Threw her away, another easy target that's all she was to them. Infuriated by her friends comments she wanted to end it, all of it. Tired of the way she's treated, like a ragdoll that's been played with too much and shoved away without ever being looked on again. Why couldn't they understand? She didn't want anyone else. She wanted him. The way he smiled at her, the way he escorted her to class, the feeling of his strong embrace. His embrace, the only time she felt safe. Now that feeling was being ripped away from her!

All her friend was focusing on was his negative side. Of course it was an on off relationship. He did drink, he smoked as well. He blew her off constantly. Lied to her on a daily basis. That didn't matter, they'd overcome the struggles together. Why couldn't he have been more honest with her?! He'd meant everything to her and more, he kept her life intact. He promised her a RING! The undying passion which resided in her heart couldn't possibly be filled, it was a void a dark and pit less one, that'd never be healed.

What her friend was asking, it was too much, and she knew she cared. The problem was she couldn't relate. She despised her, for everything she was worth! She never had a problem to endure. Maybe talking to her was a bad idea.

Feeling lost and without emotion she hurriedly decides and takes action. Murmuring a goodbye to her distressed friend she signs off, and decides to bring her plan into action.

**

Feeling distressed and frustrated with the friend she quickly makes the decision to log off and look for her. She can't possibly do this to herself. This is too far the edge, times running out as she runs to the cliffs where she suspects her friend plans to carry out her plan. Her thoughts running wild, yet trying to remain calm at her friends' hurtful words she runs- scouting the area for her friend. Dreading the mist in her way and the rainy overcast, she's unwilling to give up. Her friend means so much, and there isn't time to be wasted.


Suddenly she makes out a distinct figure in the distance, running towards the direction of her friend and calling out her name, she realizes she's startled her and her friends' lost her footing slipping, she started to fall over the cliff and is consumed by the salty waters below. A slow motion movie as the thoughts process through her head, yet she's mystified and rooted to the spot. Unable to help she watches her friend die- the very thing she tried to save her from.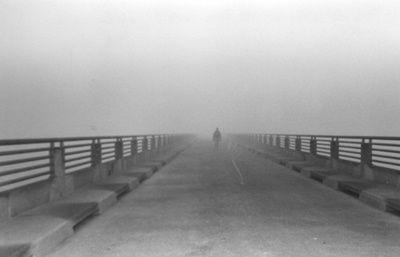 © Becky G., Westville, OH