The Ocean Emotion
August 13, 2010
The ocean is a happy, passionate thing. Silver, blue waves caress me in a hug of finality. They wash over me, wrapping around me in an embrace. Bubbles rise from the dark depths below, showing the world that unexposed life is still there…waiting to be uncovered.

The gracefulness and gentleness of this blue beauty also has a dark side. Waves crash upon the shore in an act of anger, blaming the shoreline for the poison the waves have taken from us. It lashes out at boats and ships, and drags them down to the depths of her soul.
The ocean shows its sickness as well; the coral reefs fading into a deserted sculpture, animals going extinct, waves turning black from human poisons. Birds fly in to greet they're blue friend, but they get trapped with blackness coating their feathers.
The great blue waters show deep remorse for killing their friends with its poison. Sometimes the water is calm, quiet, withdrawn from life. Nothing moves within her hold, for she is too busy crying.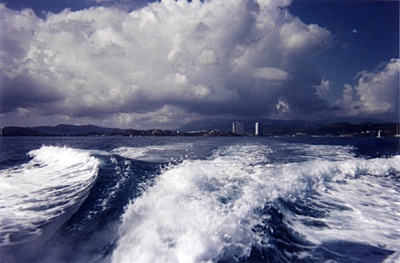 © Jenn T., Dover, NH