Summerboy
August 19, 2010
Summer is boyfriend season. Not boyfriend shirts or boyfriend shorts, but real honest-to-goodness, made-of- meat boys. I don't know why I don't date at school. It's not the boys (those are the same everywhere), and it's not the other girls (who are all abnormally gorgeous chez moi).There's just something about summer that turns me into the kind of girl who dates. Summer is always full of boys, but there was only ever one Summerboy.
He was my first summer boyfriend, before this habit became a neurosis of mine. Summerboy was what me and my friends at home called him. I didn't want to tell them his name because that would bring him into the real, back at home world. So he was forever Summerboy.
I think of Summerboy even now, particularly now as the days begin to stretch out. He stands out in my mind, not because of what happened when we were a 'we', but how 'we' ended. It was entirely my fault, of course. I accidently broke his heart and my own in the process.
It was the day before the second to last day of camp. That would be the last day of normality, before it sank into everyone that in a few days we'd all be home. Summerboy and I were comfortable with PDA (public displays of affection) by then, so we sat on the grassy field assaulting peoples' eyes with cuddling. His head was in my lap, and we were positively cozy.
Some demon of anti-romance must have possessed me to speak right then. I broke the comfortable silence with "You know, I think George had a point when he said I wasn't your type."George was Summerboy's roommate, best friend, and not exactly my fondest cheerleader.
I think Summerboy replied very well to my baffling, odd, and completely unnecessary statement. He said "Huh?"
I clarified, "It's just that I wouldn't imagine you with me either. You should be with some sort of tiny, cute hipster girl in Converse who absolutely adores you. Someone who agrees with all your crazy weird theories and thinks your band is great. She would have long tangly blonde hair and not be neurotic about success. Someone more… well the opposite of me."
If this was a romantic comedy Summerboy would've said something along the lives of 'But that's not you babe, and that's why I love you', and then we would proceed to shocking the world with EPDA (extreme public displays of affection). Instead he asked, "What are you trying to tell me?"
And I, being the type to dig myself even further into a grave, replied "Just that we're kind of different. Really different types of people."
In Rom-Com land Summerboy would have said "Those differences only make things more interesting." In the real-world he said "I knew that. I didn't mind. I thought that you didn't either. Thanks for making it reasonable."
I had just dumped my first boyfriend.

I shouldn't care about Summerboy. He's probably off somewhere dating a cute little girl who fits with him like two spoons. She might even have tangled blonde hair that she doesn't care about and really, sincerely like indie rock. He's probably all the happier for it.
I'm not.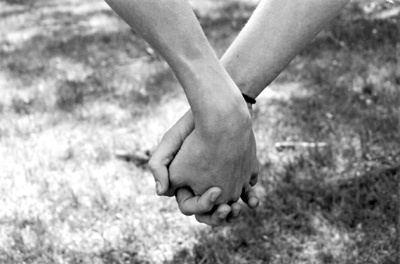 © Alexa T., Pompton Plains, NJ