In Different Circles
July 16, 2010
"Why don't you talk more with the other girls?"
I pause from peeling off my sweaty socks. My dad's looking right at me, his eyes questioning and a tiny bit worried.
We're sitting in the parking lot at the soccer fields, me just having got done with a two-hour session that's part of a weeklong camp. I glance back at the storm shelter, where dozens of girls are clustered, their socks pooled around their ankles, shinguards off, some barefoot. They're all talking and laughing, one big hive of happy communication.
He wants to know why I'm not there, too, striking up a conversation with one of them that'll last for minutes, maybe even too long, so that he doesn't have to hurry to finish up the talk he's having with some other soccer parent because I'm standing at his shoulder, waiting to go. He wants to be the one who has to pull me away from the crowd of enraptured girls hanging on my every word. He wants me to always be the center of attention, like him. He's always handled conversation so easily, so why shouldn't his daughter?
What can I tell him? Guys aren't like girls; for them, if you play the same sport, you've got hours of conversation right at your fingertips. But girls don't spend time going over plays and passes, reviews of games and who did what. Everyone knows who did well, who did poorly. Why should we talk about that stuff when there's summer drama going on?
I can just imagine the sort of conversation going on: Did you hear what Shelly did? Oh, yeah, they broke up weeks ago. Andrea? No, she transferred to some other school.
All those names, all those people that I don't know. How am I supposed to add my bit when I don't know the popular people personally? When I can't dish out the latest juicy story when there's a lull?
Sometimes, it seems to me that I'm not really cut out to be a soccer player. Sure, I can handle the ball as well as the next girl. I can outrun nearly anyone, set up a cross that ends up in a goal. But there's another side to the sport, one I'll never be included in. It's the undercurrent of sociality that every good soccer player has. The glowing charisma that somehow translates into deft feet.
How do I explain that to him? Sure, I spend a lot of my time playing soccer. But I don't live it. Half the time my head's in the clouds, plucking the sky for ideas that can be put down in words. My ears aren't listening for the types of stories you share with a circle of girls. They never are.
I shrug, avoiding his eyes. "We just aren't the same." It isn't enough, I know, to sate his thirst for an answer. He wants to know why we aren't the same. What he's done wrong in raising me.
You've done nothing wrong, I think silently. You just made me different.
Dad looks back out the windshield and turns the key in the engine. "You're just in a different circle than they are?"
Not a different circle, I want to say. A different world. A place with beauty and silence and words that string together to make art. A place that can bring me to happiness or tears in instants.
But I don't say any of this. He wouldn't understand. He belongs in the same place as those girls, surrounded by people and charisma and perpetual laughter. Instead, I just nod in agreement. Circles he knows. Circles he can relate to. Goodness knows that much is true; my friends don't play sports like soccer. They're firmly in the world they belong in.
As for me, I've got a toehold in that pretty world of lights and laughter. Just a toehold, enough to be accepted on the fringes and on the field, but never enough to be invited to the after-game parties in people's basements. Or the Saturday mall runs.
It's an odd place to be in, awkward sometimes, disheartening others, but a good place for me. I'll never truly be able to put down my eyeliner, but I'll also never be the center of attention. Always on the outside. Always listening in. Always watching, learning, one step behind.
But, by God, it's the right place for me.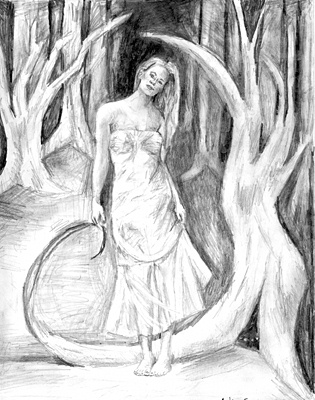 © Andrea F., Philadelphia, PA