The Idiot
July 1, 2010
Margaret has this habit of spitting. I don't know where or why or how she began that dreadful tick, but it is beginning to get on my nerves.

Just like the way she only washes her clothes when her laundry basket is all the way full… And sometimes doesn't place a napkin in her lap while she's eating… And coughs without covering her mouth… And leaving dirty dishes in the dishwasher.

It's like every little thing is another rock placed in the middle of the ocean, slowing building until it creates an island where she sits.

One more pet peeve equals one more patch of land. And soon she'll live there, and be happy. She'll meet knew people who don't mind her "problems" as much as I do. But I can't take it.

People ask me why Margaret and I aren't as close anymore. I'll gladly explain in full detail the pig-like way she lives. How I cannot share a house with someone like that. How she's just not a compatible living partner. How I cannot marry or even love someone who is that… sloppy.

They're faces never change. Somewhat like the initial aftershock of an unexpected punch. The features on their face smash into each other on one side. Leaving the other side blank and disturbing.

"Why did you love her in the first place?" They always ask. Like people can't change their mind. Like I'm some terrible person for once loving Margaret and now not.

"I didn't know her as well as I thought," I'll always answer back.

Then they walk away and leave their silent disapproval behind them, staring me in the face and making my body feel hot.

See, everyone loves Margaret. Even my friends like her more than me. Her family adores her. Her own friends adore her. The stranger at the grocery store loves her. She's the one with the permanent smile. The perfect, stunning, but soft face and flowing body. Undeterred style: always dressed nicely, never a hair or stitch of makeup out of place. And the sweetest kindest person inside that you will ever meet.

She's beautiful.

Intelligent.

Warm.

Funny.

A really good kisser…

And she chose me. The sickly thin dweeb who couldn't get a date in high school. (In my defense, I have improved somewhat since then.) But she wanted me. How odd and displaced that sounds in my mind!

I feel silly. Stupid. I understand the looks, the glares, the disapproval. How could I let her go? How could I not see past the exterior, minor problems to see what a perfect woman I had… who loved me back? Who was heartbroken when I broke up with her?

I run to my car. Get to her new apartment within a few minutes.

And yank her in to my arms. Tell her I love her. Tell her I'm sorry.

She tells me those same things back. A little less emotion. Sadness taking a permanent marker and drawing downcast eyes and frowning lip.

"What's wrong?" I beg.

Apparently, it's not enough. She's moved on. If I throw her out for tiny things like her laundry schedule, how are we supposed to live the rest of our lives together? How could I just give her up so easily? Do I really care?

She needs me to leave. She needs me to not call her, and maybe, one day in the very far future she'll call me. Maybe we'll have lunch. Reminisce about the good days when we were blissfully happy together. Talk about the bright futures we have ahead of us. Kiss each other courteously on the cheek. Leave. Never see each other again.

It breaks my heart as her beautiful eyes drop a single heavy tear that paints the skin a trail all the way down to her jaw. I want to kiss that jaw. I want to hold her. I want to love her.

But I walk away.

Heartbroken.

Lonely.

I'm such an idiot.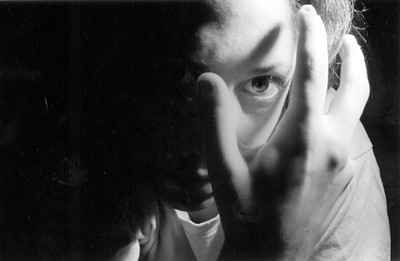 © Julie S., Marblehead, MA