Missing Aly
June 28, 2010
I didn't think it was fair to leave Aly behind like that.
I never do.
It just always ends up that way.
I should have refused to leave with everyone else, and helped her with her work, and I should have been there for her.
Then this never would have happened.
I never would have lost her.
But no; I got caught up in the idea of leaving school early, and going shopping, at an ARTS-AND-CRAFTS store no less. a store that a could have gone to with my mom a little bit later, and nothing bad would have come from it.
I'd still have Aly.
I'd still be whole.
I wouldn't have this hole in side of me.
This hole that threatens to consume me.
If I'd have stayed, we would both be gone... or maybe this whole thing would have never have happened--who knows?
I definitely don't.
All that I know is, is that I miss my Aly. Miss the way she would always be there for me, no matter what happened. I miss the way she understood that there were certain things that I could share with absolutely no one. I miss the way she was always herself, always staying true to herself, and never becoming anyone else.
I miss her.
The way she was always so strong.
The way she always tried to protect me, even when I didn't think I needed saving.
The way she looked so sad when we left her to fend for herself in that classroom filled with one tired and annoyed teacher, and a bunch of perverted boys.
And to think, if I had just said that I would have stayed with her, rather helped her than leave her there to do everything on her own, then she wouldn't have suffered dying like that.
In the massacre that no one had ever thought would happen. The one that killed everyone in the school except the few of us that went on the "field trip" that we took to help out the eighth graders. The same eighth graders that were the only ones to miss the massacre, the ones that abandoned Aly, just to get out of class for a few hours.
And now, all I want is to be with Aly again. To cross that bridge that she should have already crossed over by now, since it has been about three hours since it has happened.
And so I shall. I will go to Aly. cross that bridge and find her, to spend the rest of eternity with her, and wait for my family to come along to.
And that's the only reason that I don't go to join her. Because that would mean my family and everyone else I love behind, just to grieve over my death and I can't do that to them, no matter my reasons, I simply cannot leave them behind.
Can't go on without them.
And i won't go until it is my time to go. not until I am killed by something i am not the cause of.
and I won't do it because I know that Aly would want me to live on without her, and to have a happy life here on Earth.
And so, on I live, without one of my favorite friends by my side, without Aly to help me.
To see what this life has in store for me.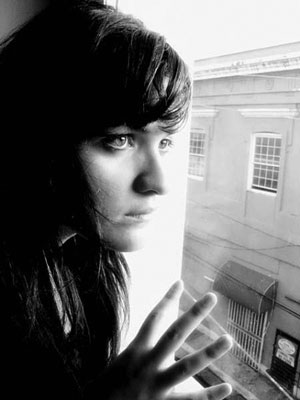 © Eveliz V., Bayamon, Puerto Rico