Midnight Drives
June 6, 2010
No one believes where I go at night, because I'm nice and my grades are good. I have proof though, snapshots I've taken with the camera I sneak from my father's bedside drawer. These images pervade my desk drawers, evidence that over the past couple years, I have slipped from my house in the darkest hours of morning, sloppily dressed and half awake, to drive my car to wherever I feel the urge to go.

There are nights when I drive out to the country, to the cows and open land, watching pavement give way to dirt and tall brown grass. I turn up my music and blast it until it permeates every inch of the clear air for miles. On a June night I see a blur on four legs, and I halt my car. My hands put the well-worn gears into reverse, and I pull back to the large silhouette.

I kill the engine and climb from my car, brown dust puffing into the air. The beast has black fur that glistens blue under the stars, and I talk to her as I slowly approach. The horse whinnies nervously, snapping, and I step back. My hands shake as I take the picture. When it develops the next morning, streaks give the illusion that the horse is running; running with nowhere to go.

A few weeks later, a boy I used to know is back in town—could I drive down to his uncle's and pick him up? I slide my bedroom window open that night with a curious thrill. When my old friend clambers into the car fifteen minutes later, I can tell that he is already gone, eyes sunken into his hollow face. In just three months he has lost his innocence, more gangly and with a newfound harshness to his deep voice.

My car breaks down by the church and we let it putter up to the building. He discovers the coolant is empty, and we find a hose to fill it with water. While we wait for the engine to cool, we find metal chairs and sit cross-legged in them. They are chained to the ground with the distrust that generally accompanies older generations.

He asks me my deepest secret and I tell him it's that I'm here. I know better than to ask his. When we finally start up my car again and head back to his uncle's, my lips can still feel the roughness of his, chapped from too many cigarettes. We don't speak, and before he opens the car door, he bids me goodbye with a kiss on the cheek. When he fades into the darkness like a ghost, it is as if he was never there.

There is a night when I take the late bus into the city and wander into a forlorn diner, where neon lighting attracts little but mosquitoes. I sit in the same booth for hours, given no notice by the old man in the corner or the waitress. A middle-aged woman, breasts spilling over her apron, the waitress is scrubbing at a spot on the counter that only she seems able to detect.

"Do you believe in God?" the old man asks finally. I look up at him with raised eyebrows, do not answer. I toy with my camera and photograph the misshapen form of his clutched hands; only when he fails to react to the flash do I realize that he is not lucid. He continues to spout questions and morality as I revert to staring out the murky window into the vacant parking lot. Finally I leave, apologetic for the old man in a way that he will never understand to be.

A friend comes over on a Friday afternoon. She perches atop my bed and takes in the multitude of photographs, the storyline of my ventures. She says that they give her a "primordial" feeling. We quickly move on to other topics, but when she leaves a few hours later, the word still rests heavily upon my tongue until I speak it. Primordial.

I lay in my bed that night, searching for sleep in clean sheets as the faint red letters of my alarm clock near midnight. The darkness provides a familiar blanket over the room as the slightly cool air signifies the close of summer. I reach for my alarm a minute before it is to go off—but instead of preparing for the night, I turn off the device and pull the sheets up to my nose. For the first night in months, I drift to sleep.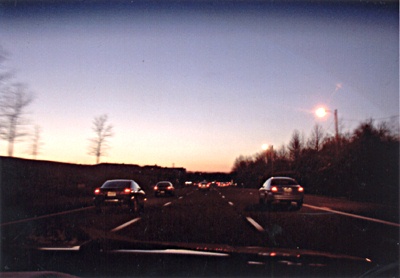 © Carolyn K., Toms River, NJ