The Immortal
May 8, 2010
The sadness he felt clutched at his heart. His soul drew back, as if to hide, refusing to feel the pain. His face was impassive, his eyes cool, but beneath the mask was a burning despair-- he tried to change, told himself it would all be all right. But then reality was harsh, and did not grant petty wishes just because someone dared to ask. So, encapsulated inside that brick wall, he hid, crying silent tears as his heart ache, as the mask protected him from being ridiculed, from being judged at. He wished, fervently so, that he be free of this thorns, but what could he do, when unhappiness all but grabbed him by throat?

He sunk, lower and lower, to that bottomless pit some might call doom. He slid, so smoothly, down to the shadows, where he couldn't see anything, for he wasn't supposed to. The soundless tears that streaked down his cheeks glistened even in the darkness, the tiny drops of lights that shimmered with his sorrow. He was continuously going down.

The pain he felt when he rammed against the ground shocked his system, so that for a moment he was stunned and shocked. The pain sang, moving through his veins, then reaching his heart, coiled around his soul. His mind, already glum from the lack of light, did not embrace it, but tolerated it. What could it do anyway?

Imperfections. Sins. Ache. Desires. They gathered around him, with ghostly faces that smirked down at him. They sang a chant, in whispery voices that made his ears buzz, his heart twitch. Then they leaned toward him, brushing kisses on his wet cheeks, murmuring secrets that he hadn't understand.

They vanished. What remained was zilch, a total darkness, the jail of doom. The despair he felt ached on his throat, so that he choked on soft, soft sobs, until those sobs became a violent weeping. His fist connected with the wall and burst with pain as blood bloomed on its knuckles. He screamed, though no one heard. The darkness ate him, and his heart was beginning to rot.

Hell. Hell. Hell. He sang this over and over again, slumped to the ground like a lifeless corps, staring ahead without seeing anything but a black page of damnation. His hope was vanishing, slowly, slowly . . . until it came to a point where bitterness ate at him, where hopelessness was a necessity to his burning soul.

He was alone. The misery. The sorrows, The grief.

The loss.

No one heard his calls. No one felt his breath. No one knew he was suffering.

No one knew he was alive.

He pushed himself up, his stomach grumbling at the sudden movement, and walked aimlessly. He felt himself go down a slope. What could be there? He asked himself, and crouched down so he won't fall. The slope was gentle as it led him down, was smooth and polished unlike the earth above. It was--

He tumbled forward, rolled violently until pain screamed in his entire body. Then he fell toward that unknown, toward that small hole that would bring him deeper to the core of hell.

He did not scream, nor did he speak. He merely smiled, and whispered his tiny hello to the next world.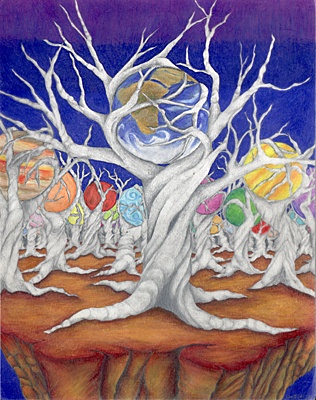 © Sara P., Lake Mary, FL