Some Things are Hard to Say
April 22, 2010
"Where were you last night?" the dog seemed to bark at me as I walked in. The broken down lamp shine enough light for me to make my way into the kitchen. I opened the fridge and found a box filled with left over pizza. I put two on a plate then heated it up and threw one on the floor for my dog. I walked into the living room and sat down on the couch. As the microwave beeped letting me know it was ready. Mom woke up. "You're making too much noise!" She hissed and slammed her door shut. I got up to get the pizza and then sat in the dinning room by myself. "Okay, let's say grace and eat. Mom dad I….I….like you very much. Why can't I just say it? Just say it. I….I…lov….lov…" I argued with myself and smiled, pretending the table was filled with people. I raised my cup of water and pretended to toast. "What am I thinking? I could die and they wouldn't care." I cried and continue to eat my pizza.


I laid in bed, thinking. "I'll just take more hours then when I have enough, I'll be fine." I mumbled and then fell asleep. "Wake up! Honey, you know dad and I love you very much but we need your help. This will be the last time." Mom begged. I got up and looked at her. I hate it when she said she and dad loved me. It's just to get what they wanted She even used it when the cop stopped her or speeding. "Honey, my best friend is going to Vegas. I need it. Please. Your father and I need this vacation." my eyes rolled up to look at her and I took a deep breathe. "I hate myself, but they need help." I said to myself and nodded my head. "Thank you baby, don't worry dad and I will repay you. We love you so much." She smiled and walked out. I got up and was in deep pain. Not the kind of pain you get from getting up from bed but the kind of pain that you know you lost something that you worked so hard for. "I like my parents but it's just that I can't say no" I whispered and went to the bathroom.


They took all of it and left. I only had 26 dollars in my purse. It's been a week now and the pizza in the fridge was gone by now. "Don't worry. I'll go get us something." I said to my dog. The weather outside was calm with a chilling breeze coming from the lake. As I walked out the door it slam shut on me as the wind fiercely blew. A picture of mom and dad on the small stand by the window fell and smash as the door slam. I heard it thinking it was the dog running into things. "You dumb dog." I giggled and kept walking.

I was in line holding a basket full of junk food like frozen pizza and greesy chips. All of a sudden a black man in his middle age ran up to the cashier and pulled out a pistol. "Give me the money now!" she ordered and pointed the gun. The cashier freaked and followed his directions. He looked at me and pulled me then pointed the gun to my head. "If anyone follows me. She's dead!" He shouted and dragged me along out to the parking lot. I was so scared. "To have a gun on your head not knowing if it was going to be pulled. I was just at home peacefully and the next moment my life is in danger." I said to myself. The man ran to his car, which was locked. He struggled to get his keys out. "Here's my chance. I don't want to die." I said to myself. I looked at him one more time. He was still struggling. I snached the bag of money out o his hand and ran for my life. "I can't believe it! No way. Who cares? Just run or your life!" I warned myself and ran with all of my might. Then a sharp piercing pain hit me. I fell to the ground as a woman screamed. I looked at my stomach. Blood was all over my shirt. "How could it be?" I asked myself. I fell to the ground as the black man ran and grabbed the bag of money and then to his car and drove off. "How can this happen?" I kept questioning myself in disbelief. The woman ran up to me. I looked over her and looked at the sky. My eyes were getting tired for some reason and her voice was becoming distant. Then I realized. Tears streamed down my eyes. "I love you mom and dad." I said with all the breath I had then the wind came and carried me away.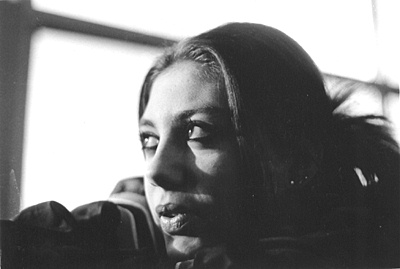 © Michael C., N. Massapequa, NY