The Wedding March
April 12, 2010
The glow of the golden sun bounced off the wisps of clouds, beckoning the little girl outside. After pulling her black rubber rain boots over her striped tights, she picked up her cat and tugged down on the handle of the screen door, thrusting it open then watching it swing shut behind her.
"You're missing something," said her mother, who was watering the garden, blocking the little girl from her exploration. Rustling the little girl's fair blonde hair, she placed a large cap on her head that originally belonged to the girl's grandfather. She smiled and bent over to fasten the pink and blue buttons at the top of the girl's dress, which was off by one button anyway. "You know how much I love you?" the mother looked up into her daughter's face with a playful smile. "This much," the little girl said, placing the cat on the dirt near the flowers and opening up her arms for a hug. "So much more." Her mother pulled her in, laughing. "Where are you off to today Missy Mae?" she asked. "Just out into the world." The little girl giggled as she jumped up and ran across the driveway, the cat following her, its tail swishing back and forth.
Walking down the sandy road, checking up on each of her fairy houses, the little girl pulled long blades of grass from the sand, clumping them into what she imaged to be a large, beautiful bouquet. "Here comes the bride," she hummed as her black boots sunk into the sand with every step. Suddenly, her grandfather's hat became a veil of delicate lace and her purple jumper transformed into a floor length cream colored gown. Just like any other girl, she dreamed of her wedding, but never dreamed she wouldn't have the chance to live it. "Where are you going?" she called to the cat, abandoning her bouquet and running after it. Her cap fluttered in the wind, threatening to escape, so she held it down with her little fingers.
Somewhere not far off, but almost in another world, her mother stood happily watering the yellow daffodils as her baby daughter wandered further and further into the desert. A few days later, the cat made its way back home, but the mother crying at the kitchen table was not comforted. The little girl was not close behind.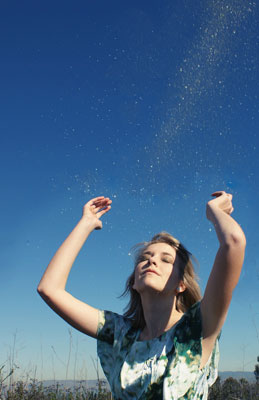 © Haley S., Long Beach, CA