Terminal
April 10, 2010
We met once, on the city's busiest train in the middle of winter. She was my mirror, and I, hers, though she would never admit it to anyone else. Her eyes told all, really. She thought herself opaque when she was, in actuality, transparent—or perhaps I just wanted her to be glass. Someone had to be.

The two of us stood next to one another in silence, the silence of strangers. She was obviously on her way to somewhere, dressed as elegantly as she was. Or maybe that was her customary clothing. Perhaps she wore dresses and pearls everyday. I wouldn't know.


I was riding the train for lack of anything else to do, really, a result of the season's ennui. Paying a price for people-watching and wandering seemed as appealing a task as any—considerably more so when I thought of my disorganized apartment and the promise I had made to myself to clean it. In any case, I spotted her first and therefore received the dubious honor of seeing her—my?—blue eyes widen in disbelief as she gracefully wrenched her way inside. But as surprised as she must have been—I certainly was—she didn't say a word. There was no exclamation of "You look exactly like me!" in whatever tone her disposition and mood permitted; there was no firing of questions. Perhaps she thought I was someone creepy enough to look exactly like her, minus the actual clothing part. I was wearing a sweatshirt and jeans.


Something upbeat drifted from her iPod; I automatically set mine to Chopin's Nocturne No. 20. She raised an elegant eyebrow—disdain was painted on her face, as evident as her makeup—and turned another degree away. Soon she would face away from me entirely. And still she did not speak. She didn't want to, and I was sure I didn't want her to either.


A few stops later, as the train slowed and the faces outside took on solid form, she started for the door. I hadn't known one could walk that swiftly in heels, but she had managed to wedge her way into the cluster closest to the exit before I could so much as blink. At the door, she jerked back and looked at me. "I'm Aline," she said, and hurried off.


Wait, I wanted to call after her. Come back. But the door slid shut, and I turned away. My name's Aline too.




I met my twin once on the city's busiest train in the middle of winter. I doubt I ever will again. Trains are such melancholy creatures; they only meet by accident.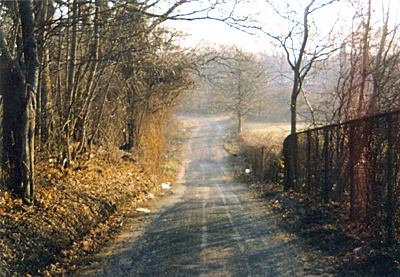 © Cameron C., Milford, CT