Tears and Tomatoes
February 22, 2010
It was a summer of berry-stained fingers and watery paints.
A summer of home-made tomato sauce and chlorine-y hair.
It was the summer that changed who I was, and the summer I'll never forget.
The crying was the first thing I remember about the night my Nonna died. Me awaking to the sound of my father's sobs and my mother's hoarse voice on the telephone.
Some people may have dismissed the drama with a flick of their hand and a mumble of "Emotional Italians." But I knew my family. I knew something was wrong.
On my way downstairs I heard a few words exchanged, then the screen door slam.
"Mama?" I yelled at the darkness. "Papa?"
"Oh Katie," was all I heard as I felt my mother's familiar arms wrap around me. "Oh, my belle."
Of how long we sat together on our warm wooden floor I was unsure – we were unmoving until I felt her fingernails snake their way through my hair. "Your Nonna died tonight, belle."
The words cut though the silence of the room as though they were shouted, though they were uttered in merely a whisper. That night the house was unforgiving; the creaks and ticks seemed to all but cease, giving me no sounds or movements to signify a remaining piece of reality; to signify that life as the walls around us knew it was still continuing, though mine at that point seemed all but demolished.
I sat, waiting for my throat to clench and eyes to spill over; waiting for the Italian within me to overpower my head, forcing me to focus on my heart.
Nothing of the sort happened, causing me to wonder if I was some sort of traitor to the Italian race. Where were the sobs, the cries and the wails? I was all too aware of their absence.
So there I sat on our wooden floor heated by the sun, waiting for some kind of emotion to overpower me, not even stirring when my mother got up and took herself to bed. The first time I moved again was when my father arrived back home and it felt unnatural to stretch my legs after hours of being curled up.
"Where is she?" I demanded of my father.
"Katie, please, she..." he looked tired.
"Where IS SHE?" I yelled. I had to see my Nonna one last time.
"At her house, Katie, but..." I flew out of the house, my body automatically knowing where it was going.
As my feet hit the steps of my Nonna's house, I slowed down completely. I slowly opened her screen door, suddenly afraid of what I might see.
I breathed in the familiar scent of tomatoes and baby powder as I made my way to her room. My Aunty was sitting next to Nonna's bed as I entered the room. But my eyes were pulled to one thing.
Seeing my Nonna in the bed looking so peaceful, in the same place I'd seen her so many times before, was vaguely surreal.
Without thinking I sat myself down gently on the end of her bed, scared that any move I made would break her.
Although she was so pale, paper-thin and fragile, she somehow still had her grandmotherly warmness – it was ever-present.
I took the hand I'd held as I'd learnt to cross the road, the hand that taught me how to cut the pasta for our homemade ravioli... though this time there was no response – no squeeze or thumb stroking my palm. Instead it contained a goodbye.
As I walked home that evening after spending my last day with Nonna sitting on her bed, the tears I'd waited for and expected came.
But they felt good – with or without my Nonna.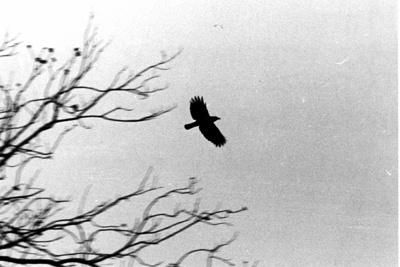 © Jacqueline T., Flowermound, TX