Butterflies
January 21, 2010
Have you ever stopped to smell the flowers or tried to be a butterfly?

I have.

I smelled all types of flowers. Big ones, little ones, red ones, blue ones, budding ones and dying ones. Each had it's own unique smell.

I felt like a little kid again. I left that peaceful place as fast as an airplane flying through the sky. Running my engine, zooming by buildings and over people. I was in my favorite sneakers and my bouncy pigtails flying through the air.

I reached a light and suddenly turned into a rabbit. I felt like I was hopping and under me was smoldering lava.

I reached the abandon house at the end of my street. I scaled the vine ladder like a squirrel would a tree.

Once inside, I was instantly turned into royalty. I was greeted by hundreds of others who had waited for my arrival. I walked to the door and was transformed into a singer with paparazzi everywhere. Suddenly, I slid down the stair railing like I was a surfer catching a wave. I rushed out the door to escape.

I raced on my bike like I was Lance Armstrong and won by a foot. Before I knew it I was racing horses, which magically turned into a bucking bronco in a rodeo contest. At the eight-second buzzer I landed in a flying house.

I ran into THAT man he gives me the creeps. He slapped me across the face. He swore profanity while screaming at me. My mom lying there sobbing on the floor. I could see where he had hit her. I turned around and ran.

I ran to the high school. It is three stories tall and the roof is unlocked. I like to sit on the edge and dangle my legs off the side on windy days.

I ran to the top and swerved around all the flowers, they smelled like perfume. I sat down in the middle of all the flowers. Then HE came, I would usually sit there and watch the bugs crawl around me. For the first time, there was a flutter of butterflies. They mesmerized me instantly making me forget HE was there.

I became a butterfly on the top of the school by the park. I followed the flutter of butterflies. I flew around flowers and then my mind went blank. I lost control of my body like I was in the seat of a carousel ride. I just watched myself mimic the butterflies. Flying up and down, round and round right until I hit the ground. Finally I can rest.

The pain kicked in. I realized I had followed them off the edge of the schools rooftop.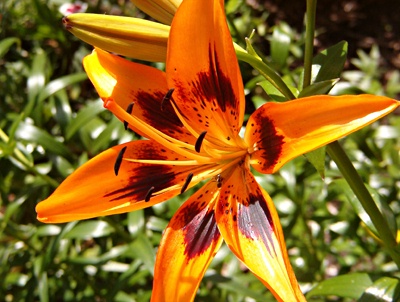 © Terrin C., Humboldt, IA