Lythium
December 4, 2009
Sitting in the dark, black penatrated poisonous Lithium Blue eyes.

He said to me, "I look at you and see poison, the blue of your eyes bleed a Lithium light, flames erupt in the depths of your soul and you burn me alive. Venom seeps from the black shadowed pupils of your eyes when they dilate and grow smaller in your rage and fear fills my heart, and I, though oft fearless, tremble before your wrath, but still I say unto you, you are no love of mine, be gone." And so away I went, heart cold, blood flowing like fire in my veins, and tears fell from my eyes, in Lithium Blue Waves.

For a long time after I understood very little of the opposite species until one day one approached me and spoke kindly, "Your eyes are very pretty, a nice shade of grey." For so long anger, sorrow and depression had plagued me and my eyes had become dark, stormy and unresponsive. I looked at this odd male and spoke in a voice that held no emotion, no hope for friendship. "They used to be blue... but it seems they've lost their color..." and in truth, even then my world was nothing more than many shades of grey. He merely smiled at me, leaving my mind to scramble in confusion as it tried to process the flutter in my chest. "Maybe.." he said, "I can return the color to your world." Well, he did.. now all I see is red. In the end, the words he said weren't much different in meaning.

I was cold, vicious... and alone. "You're warped, wrecked and twisted.. your mind is a blackened mass of nothing... Funny thing is, you're starting to like it. Destroy sun light, Live in the dark of clouds and night. Wilt in happiness and joy, thrive in rain and lightening, sing like howling wind and walk through life like rolling thunder... There one minute, fading the next. Gone, then there in a sudden burst of lively sound.. Then gone once more. Leave your mark on the world like a raging wild fire... Never let authority be your weakness, butt heads, bare teeth and sharpen your claws... Fight to the end or end the fight. Your choice."

The only thing I could bring myself to say was, "That's my lullaby." So here I sit, in black darkness, contemplating the many secrets of death, life and loneliness...
I've come to a realization, however.

Sometimes... Death can come quickly and silently. Some of us know when it's coming because we see its victim or feel its dark approach. The blackened, frozen grip that encircles us can change the way we look at life... The cold of it's iron hold seeps into our very souls, biting and scratching at the surface until we finally give in to the darkness. In the hold of darkness we can become caught and entangled within the undertow of the shadows that stalk us. Still, some can live a life of sweet, blissful ignorance. Somehow they remain innocent and unsuspecting, even when the dark angel finally knocks on their door to carry them home. But...In the end... someone suffers a loss. Someone is left to go on. There's no stopping fate, no evading the Dark Chariot, no hiding from the Dark Evangaline...

But sometimes, there is a second chance...

And I wonder, if there is a second chance from death, the proclaimed end, how many chances are meant for love?

So, Gazing through Lythium Blue Eyes this contemplation carried me deep into the night.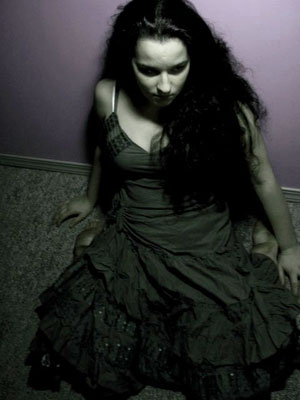 © Brianna D., Everson, WA