A New Beginning
September 26, 2009
"I just don't get it," I said. My teacher was getting angry with me.

"The problem is 7+89. What is so hard about it?" She stared at me and I glanced at the paper. Which problem was she looking at? The bell rang and my teacher stormed off to her desk. I gathered my books and ran out into the hall. "Um, Kristen? Could you come here please?" I walked to her desk and she stared straight into my eyes and said, "I think you need a guidance counselor." She wrote out a slip and handed it to me. "Ms. Cronin is a great teacher. She can help you." I stood there, unsteady. Everyone knew that only the idiots would go to this class. "How about you start Monday? I bet you'd like it." I nodded my head as she handed me the slip and I escaped out the door without further conversation.

I reached my locker and started turning the dial when I suddenly fell against the lockers. I fell in a heap on the floor, holding my knee. "Hey look, it's stupid." It was Caroline Finny. I should have known.

"Leave me alone, Caroline," I said and turned back to my locker. I started turning the dial again when Caroline threw her whole self into me which sent me flying into the wall of lockers, and crashing to the ground. I grabbed my knee again and held it, waiting for another blow. Instead, she ran away laughing, leaving me on the ground in the middle of the hallway.

A few minutes later, after I knew the coast was clear, a opened my locker, and shoved my books in. I snatched my bag out and started running, hoping to leave the school without any more trouble.


After the weekend, my mom decided to drive me to school on Monday. She let me out of the car, and gave me a hug. "Have a good day, sweetie!" she said, though I think she knew that wasn't going to happen.
I looked down at my crumpled slip from being in my pocket and tried to read what my teacher had written, but eventually gave up and asked a teacher's aid where the room was. She escorted me there. "Thank you," I said while opening the door to possibly the most peppy woman I had ever seen in my life.


"Kristen!" she screamed excitedly while throwing her arms around me," It is so great to see you!"


Oh great, I thought.




"We are going to have so much fun! Here, let's start."
Throughout the day, we did some easy problems, and gradually worked on some harder ones. We read for a while and she helped me with words. For once I didn't feel dumb.
"You did great today, Kristen. Great job," Ms. Cronin said. She hugged me, and this time, I hugged her back.
"Thank you," I said and I walked out the door, all the way home, in through my house, and fell asleep, safe and sound because I new tomorrow would be better.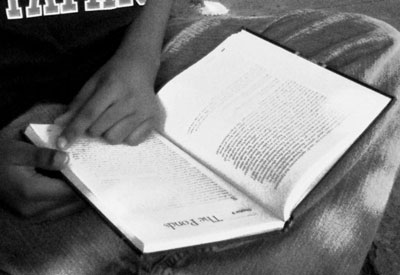 © Allan L., Plano, TX