Conspiracy-Part 1
September 22, 2009
I remember that day as if it happened yesterday. The day I was recruited to be in the United States Marine Corp.

The sun had been dim, almost as if it were sad that I would be going. There were clouds hanging low, almost as if the angels were dangling them by strings. I had driven my ancient black Chevy truck down to the local recruitment station.

The recruiter greeted me at the station. He was tall, at least four inches higher than I was. He had peircing green eyes that didn't seem to fit his face quite right. He had the classic marine hair-cut, but I could tell that it was either blond or brown.

I smiled as I approached the door. He grabbed my hand and shook it with a strong grip. He had paused and looked me over.

"You'll do," he said, smiling. He had a big, toothy white smile. He led me into the small 10 x 10 square foot office. The recruiter had offered me a seat and I accepted.

A long, drawn-out conversation had followed. I don't remember the exact details, but I do remember that I had given my life's story. Afterwards, I was told to go to this location and blah blah blah. I had never found out the recruiter's name, but as I lay here now, I think of him.

I was deployed to Iraq after several long, arduous months of training. I had several new friends in my troop, most of which were men. They had all helped me through the pain I had suffered through the training.

My group had been discharged into a small town in Iraq on a raid. But, we weren't prepared. The locals in the town had heavy artillery, and we had no idea how. The rest of my group was killed. I was shot and seriously injured, and thats where I'm laying now.

The people who shot me are babbling in what I guess was Iraqi. I had my eyes closed and I was trying to breath as little as possible. But, that was hard. I hoped I looked dead.

One of the Iraqi's kicked me harshly in the side, and the blow took the breath out of me. They said something and then lifted me up. I kept my eyes closed.

"What is your name?"

TO BE CONTINUED...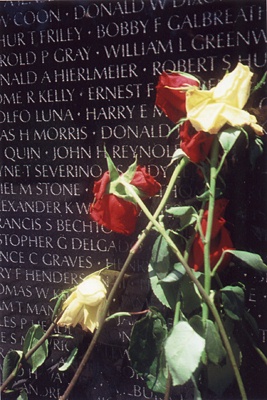 © Justin R., Angola, IN