Elegance
August 12, 2009
She never thought it would come to this. Her reflection repulsing. The bathroom tiles cool on her toes. Voices run through her mind telling her Yes! Then some No! Focus and concentration cannot be found. Her breath is heavy and broken as she falls to the floor. With shaky hands she pulls back her long dark brown locks into a messy ponytail. She leans toward the toilet and watches her salty tears drip in the water. With wet eyes she plunges the toothbrush down her throat.
Instead of buying her lunch she packed her own. She filled the bag to the brim with foods of many sorts. Then, making sure she was alone, she packed the diet pills down at the bottom of her pack. Feeling guilty, she exited the front door, off to another day at the same horrible high school.
At school her focus couldn't be found. The girl practically felt the eyes of her peers boring into her skin .The sounds of their bodies vibrating trying to hold back laughter at her caused lightheadedness. You will laugh soon. The devilish voice lodged in her head calmly told her. Nodding to herself, she closed her eyes, emptying her mind of all around her.
Meanwhile, the new student at the school studied this girl. Her skin pale, almost a sickly white, and her eyes light gray like a foggy night with powerful shining amber flecks like stars. She wasn't small, but full figured. He realized he should be paying attention to the class, instead of the mystery female, and removed his gaze from her. But his mind, only thought of her.
Excitement and dread flooded her body as lunch arrived. She sat at her usual table alone and grabbed her pack out of her bag. She ate some of her lunch then her nerves began shaking.
Ever so carefully she took out a small pack of M&Ms. She opened the package and shook it some, making sure both little pills were located inside. She began eating the M&Ms then popped a pill with a chocolate candy. Not long after, she repeated the process.

After her lunch was finished, she excused herself from the cafeteria to the restroom.

Where is she?! His mind wondered anxiously. Since his first class his brain thought only of the mystery girl. What is her name? How old is she? What does her voice sound like? Surprisingly, his brain focused on one main question; does she have a serious boyfriend?!

When he finally spotted her, his heart literally leaped. Ignoring the shocking pain in his chest, he noticed she was rising from an empty table across the room. Yes! No guy! But how can she not have friends? His mind wondered curiously. She gracefully tossed her lunch into the trash bin and exited the cafeteria. Adrenaline pulsed through his body as he walked quickly to catch up with the girl.

As she entered the restroom, she tied her hair back, made sure she was alone, and closed the bathroom stall. Just as before, she fell to her knees and cried as she removed the toothbrush from her bag.

He didn't walk quickly enough, because as soon as he pushed open the door, he spotted her entering the girl's restroom. Trying not to lose his courage he went and stood beside the doors waiting for her to return. He heard a loud sob then a disgusting noise. Raising one eyebrow, he listened again. The noises continued as did the sobs. Worried about the girl, he pushed open the door and walked inside.

Gasping for air she removed the tool from her throat. As she did so, footsteps approached her stall. Worried as heck, she flushed the toilet and pushed the brush down into the bottom of her bag. Slowly she unlatched the door and stepped out into the light.

As soon as he saw her, her beauty fogged his mind. She gave a look showing fear, shock, and surprise.

Standing before her was a guy. He had dark black hair that reached his ear lobes. Tan skin occupied his body and yellow green eyes were placed inside his skull. Without thinking, words flew out of her mouth, "What are you doing in here?! Are you to blind to see that this is the ladies room?"
"No. I'm sorry. I saw you walk in here then heard strange noises. Are you okay? I mean are you feeling okay?"
Wiping her eyes of tears, her shaky voice spoke, "No, and no. But…" Just hearing that she wasn't fine, he came forward and wrapped her in a hug.

His warmth made her feel better than she had in months, and she just broke down into tears. "Why are you being nice to me? I'm a fat, friendless girl who has a bulimia eating disorder!" she cried into the shoulder of his gray hoodie. With surprise and courage he pulled away from her and looked into her powerful eyes saying, "Oh…well…One, you aren't fat…you're…truly beautiful…And two I want to be your friend…honestly…I want to be more than your friend. Lastly…I want to help you."
"Really?" She asked excitedly while wiping her tears. Those were the most touching words anyone had ever said to her.
"Dead serious. I'm Reese. I'm new to the school and well, I think you're amazing. So, what is my new best friend's name?"
"Wynn."
"Wynn." He repeated passionately. "Well how about you come finish my lunch for me and show me to some of my classes?"
"Oh I'd love to!"

Wynn left the vomit smelling restroom with her hand wrapped around Reese's. The elegance surrounding her heart was more than imaginable.

Reese squeezed her hand as they entered the cafeteria and sat down together. Her cozy smile was as elegant as a bouquet of wild flowers.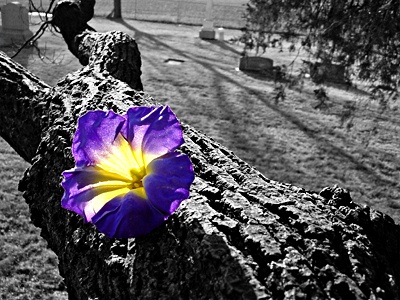 © Greg K., New Lenox, IL