The Fallen Are The Virtuous Among Us
July 19, 2009
Plink. Plink. Plink. The sound of dripping water ricocheted off every wall of the abandoned building, amplified by the still solid concrete walls. Tawni wrapped her arms around her knees and leaned against the wall. It was cold, she leaned forward. Her hands shook half with anticipation and half with dread. But the part of her mind that told her this was wrong was slowly rotting away.

From her pocket she pulled a tourniquet, a syringe, a small bottle cleverly disguised as aspirin. Soon all her troubles fell away as the heroin rocketed through her system, clouding the world in the haze of the high. For a moment there was ecstasy that soon escalated to distress. Too much, she took too much this time.

She came to this place to be alone, and now the aloneness would be the death of her. But she didn't know any of this. Her mind was too far gone to notice anything anymore. She was higher than a kite, and the world was fading. . .fading. . .fading. . .black.

From the blackness there came a light; first just a pinprick, but slowly widening until more blinding than the sun. But yet it did not hurt to gaze upon it with wide eyes. Death, this is what death feels like, Tawni thought. Death was warm. Death was bright. Death was better than high. She was suddenly saddened, for it was high that had brought her to this place in the first place, and maybe this place was bad. But it didn't feel bad, and that was good enough for Tawni.

The light changed, became white, and it hurt. A smell like sterilized death reached Tawni's nostrils. Hospital smells. She couldn't move, couldn't speak. What is this hell? Tawni thought. She crawled desperately with her mind towards the comforting yellow glow of Death, but it did not come.

Faces materialized around her bedside: Mom, Dad, little Eli. She didn't want them to see her like this. But it was her fault she was in this mess. And it was her job to clean it up.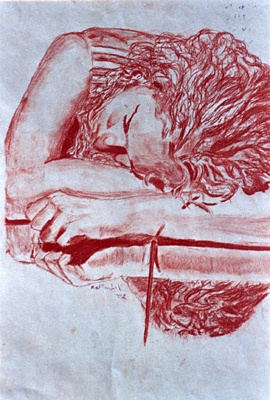 © Mark S., Kannapolis, NC