From the Fortress
July 13, 2009
There was no way for me to not flinch when I saw his fist come swinging. My eyes automatically closed and I was braced for pain before it connected with my face.

"Stop!" I coughed out. I was disgusted by how desperate my voice sounded.

He continued exercising his power over my body. I could tell he was enjoying it, that after a few drinks mindless pounding of my struggling form was the perfect way to pass his now-worthless life.

Damn. I hated it. I hated being the object of sadistic entertainment. He didn't care though. When was the last time he had cared about anything about me at all?

This wasn't the first time either. My friends had already noticed. I hated having to cover for him, but I did anyway. No gratitude on his part. My patience was all used up.

"Shut up!" he grunted, before aiming another drunken kick at my leg. I complied, and hated myself for it. There was so much I wanted to say.

Suddenly tired of me, he staggered back downstairs. Why was he so damn alcohol-tolerant? Couldn't he just pass out peacefully? How ironic, that the same person who had once been the center of my world was now the person I wanted to avoid the most.

I stayed as still as I could, waiting for the pain to subside. I stung in a variety of places. I was sure they'd all bruise. Half an hour passed before I decided to budge.

There was nothing for me to do during that half hour besides think. I found myself in this situation before I knew it. My boyfriend was a troubled man, but he had loved me and had had so much potential in him. I wanted to help him realize that potential, and become all he could be. I was chasing his dream for him. But maybe he wasn't as eager to do something with himself as I was. And any eagerness that he had ever had was gone.

The man lounging downstairs was not the rough-around-the-edges but sweet man I once knew. It was only in appearance that he held even the vaguest vestiges of the optimistic youth he had once been. He was a stranger, who had limited his ambitions to this house and his beer cases.

Alcohol itself wasn't the problem. It was merely the opening of Pandora's Box, and unleashed hell upon this house. The problem had always been existent, buried away within him somewhere, and covered delicately by the smoother aspects of his personality. I just hadn't realized it.

And now that I knew what he was like, I had to get away.

I grabbed a coat, my wallet, and a few things, and walked out of the room. I was jittery. Excitement spurred my every movement and my breathing quickened.

I went down the stairs, practically tripping with trepidation. My body refused to calm down. I was prepared. I was resolved. I knew what I wanted. But my body still displayed whatever uncertainty I felt. I swore under my breath.

His voice came from behind me in the main hall. "Hey! Where do you think you're going, woman? Did I say you could move?" As expected, his alcohol-proof metabolism was fully functional. It had been a half hour, and I had sort of hoped for him to be asleep so that I would not have to confront him. There was so much I wanted to say, but at the same time, I didn't want to talk to him.

I turned and tried to be firm. "No. I'm leaving," I declared, clenching my clammy fists. Damn, what was up with his glare?

"Leaving?" He looked genuinely perplexed. "You're leaving me? Can you?"

He doubted it?

"What, don't you love me?" I hated how he asked so casually, but before I could reply, his mood darkened. "You said you loved me."

I took a deep breath. This was going to be my last conversation with him, so I might as well not hold back. The little rant going on inside my head came out.

"Loved you? I did love you. Past tense. But everything I ever loved about you is gone now. There's nothing about the present you that I love. I can't just overlook all your recent behaviour," I said, backing up against the door. I felt a bit more in control with my hand on the door knob.

He growled. I had never seen him look so ugly.

"We made a pact," I said carefully, "that we'd take care of each other. You already broke your end of the deal. I tried to stick by you anyway. I tried to help you out. But it's become evident that you don't want my help. You like being just the way you are now, don't you?"

He didn't say anything.

"Well, if you don't want to be helped, I'm leaving. I can't live like this, with you. It shouldn't matter to you, since you don't need me anyway."

The look on his face protested against my last statement, but he still didn't say anything. He tensed though, and shook slightly. Was he still breathing? A pitiful sight.

"If the man I once loved shows up again, tell him to give me a call," I finished. Then, heart pounding against my ribcage, I pushed open the door and walked outside, trading stale cigarette smoke for the cool night breeze. The breath of fresh air that instantly greeted me promised freedom and made my already strong resolve absolutely unmovable.

I began to walk down the steps quickly, but without submitting to the indignity of breaking into a run. I heard him hurrying after me, but he stopped two steps out the door. I didn't look back, but I smirked, imagining the look on his face. He wouldn't leave the house. It was where he was the master, the unquestionable king of all that resided within. But it was a self-appointed role, and outside of his domain, he had no power whatsoever. Only in his castle could he convince himself that he was above everyone else, untouchable and to be worshipped. I had been his only subject, and I was outside of his territory now.

A king who has already lost all pride and decency is nothing without his servants.

Getting into the car parked in front of the house, I mentally said an apology to the man who was now that empty shell gaping in front of the house for leaving him. But I couldn't see anything left in him that I could salvage, and my staying would have only hurt the both of us.

The empty shell filled itself with heartfelt anger, and began to shout, still unable to leave its fortress. Maybe one day all of his emotion will be directed into something more positive. If my leaving could possibly be the wakeup call he needs to seriously reflect about his life, then I had better get going.

His loud obscenities fell not on deaf ears; I just refused to grant him a response. He could continue playing his dominance game if he wanted, but I was out. All doubt and uncertainty had long left, and it was in absolute tranquility and mental peace that I drove away from his raging.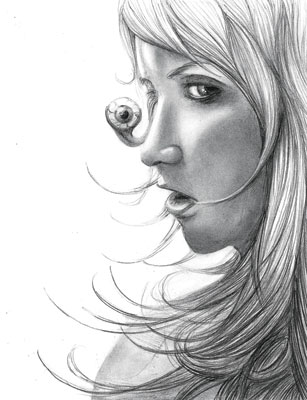 © Jessica P., Bethel Park, PA