Just a Stereotype
June 26, 2009
Dear Diary,

Story of my life:

"She looks like a prom queen."

"She's a spoiled brat."

" Well at least she has an excuse. She's blonde."


--------------------------------------

"What a geek."

"Must be the teacher's pet!"

--------------------------------------------


Stereotype. My brother and I go through them all the time. I'm the valley girl, idiotic, dumb blonde. He's the nerdy little math freak.

Isn't it strange how we are stereotyped? You don't stereotype your friends, so you stereotype people you don't know? I don't understand it.

I'm just the girl in class who does some homework everyday, but is cramming for the big test on Monday morning, the girl who gets nervous onstage. I'm the one who bought a candy bar, because no matter how fat I get, I don't care what people think about me, because I already know I'm not what they think... If that makes sense!

But even though I don't care what people think about me, you know, since it's usually not true, sometimes I wish they wouldn't think about me at all. They think I'm the anorexic, annoying sqeaky-voiced cheerleader, who looks down on others and makes them feel bad, but I'm not!

Sometimes I wish when they say those things, if they are really thinking at all!

Once upon a time, I was a kid. A kid who had lots of friends. Years later, I'm a dumb blonde, a bully, who puts people down to feel good about herself. Now, all my "friends" whisper about me with the others.

I don't know about you, but I don't think it makes any sense. Like I said before, I used to be a kid. Now, I'm just a stereotype.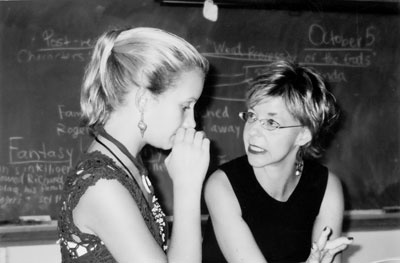 © Olivia L., Pompton Plains, NJ