Tell Her
May 17, 2009
"She doesn't know yet, does she?"


"No."

"You should tell her, you know."

"I should."

I see her big blue eyes lift up to meet mine. Concern was washed over them.

"You won't will tell her, though, will you?"

I don't answer.

"You won't." She didn't put it as a question this time.

She was staring me right into my eyes. At that moment everything was so real. She was right in from of me, the sun was glinting off her golden hair and the breeze was lifting it. I tear my gaze away and look across the grassy hill. I search for a cloud somewhere in the sky, but can't find one.

"No." I tell her.

Her small hands reach for my chin. Her gentle touch sends and electric shock through my body. She turns my head, ever so slightly.

"Look at me." She tells me.

I look at her, but it scares me. It makes me not want to look away; it makes me feel so out of control. So helpless.

"You can't just not tell her." She says. Her voice is hard, it doesn't suit her. "Why won't you?" She's says after an eternity.

I think. Why won't I tell her? Wow. I don't even know.

"You surprise me constantly." I say.

She laughs. It sounds like chimes filling the air, dancing around me.

"And you change the subject constantly." She tells me. The serious air is lifted, but only for a moment before her face gets solemn again.

"I…" I start, but it's hard. Too hard to finish. "I don't know."

"You don't know." Again, not a question. "You don't know…" her mind was chewing on this.

It is silent for a while. I can see her think, her small face scrunched in frustration. She likes being in control not being clueless.

More time passes but the silence still isn't raised.

I decide to break it.

"Come with me."

"Hmm? Where?" She asks.

"Somewhere. I need to show you this."

She nods, as if she is giving me permission to take her.

I grasp her hand in mine and we begin down the hill.

"Do you remember that time in second grade Mrs. Bathey asked us where our special place was?" I ask.

"Yes." She says.

"And how I was crying all recess long because I didn't have a special place?"

She smiles and I swear rays of golden light radiate from her. "Yes, I remember."

"Well, I always remembered that. So in sixth grade I went to find one."

"You searched for a special place?"

"I did. And I found one." I say, flashing my eyes at her.

"And, so, that is where you are taking me."

"You are too smart."

We both keep quiet for a while. Soaking in the sun's rays, enjoying each other's presence.

"Now, watch your step here." I tell her as we approach some rocks. "And…you will have to duck right about…..now."

She listens to me.

"Now crawl through that hole." I say. "….Yep, that's right. That's good…"

I wait at the other end for her to come out of the small tunnel.

"Are you co-?" She begins. Then I hear a sharp intake of breath and I know she saw.

I quickly crawl through.

"Beautiful, isn't it?"


I watch her as she scans the scenery. Her mouth drops open a little. She sees the waterfall, and the lake beneath. And how, from just the place we were standing, the light hit the water just right so that you could see every fish swimming. She saw the meadow with the purple and yellow flowers sprouting here and there. She saw everything.

She turns to face me. Her eyes are a mixture of awe and surprise. But what pleases me the most is that she finally got it.

"I can't tell."

And she understood.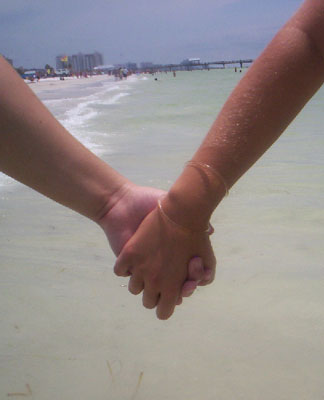 © Belinda H., Palm Harbor, FL