Crashing Waves
April 8, 2021
"Nature is not a place to visit. It is home." ― Gary Snyder
Peace. Joy. Courage. Harmony. Tranquility.
To me, there's only one place in the universe where I can recreate this feeling. When I am there, I can fly. I can soar. I can leap and travel along the winds. At that moment, I'm invincible. It's no other than the one and only Hawaii.
The crisp, cool salty air landed as light as a feather and swept up into my body, making me feel more rejuvenated than ever. The eerie echoes of crashing waves swept over my ears and into my body, making me one with the ocean. I felt so calm, so peaceful, yet so alive. A rhythm of water crept up onto my ankles, the sheer steadiness like the tick tock of a clock. Every grain of sand under my feet made me want to lie down and sink into this natural beauty. Sunlight creeped between the trees and pushed its way onto my face, a golden array of sparkling stars. I could almost feel the serenity seeping up from my feet into my body, pushing through to envelop me in its cozy cocoon. It seemed almost too good to be true, like a fairy tale's wildest dreams. I twirled in a circle, taking everything in. Afraid to let anything go. Right behind me was a breathtaking view that stretched on for what seemed like miles and miles along my vicinity. It was as if a giant had crumbled to his fall, only to turn into rocks and boulders of all shapes. Volcanic rocks and natural stones filled the land with a never ending array of black. Stroking my hand along a side of a boulder on my right, I felt the dips and curves of the natural sediment dance around. The stone was so intricately shaped, it reminded me of the craters on the moon, each and every one having their own charisma, a personality of sorts. As I embraced the pure beauty of it all, a slight lingering of humidity flew up my nose, filling me up with the clean, cold, air. Within the next few minutes, thunder and rain plummeted down on me, as if Zeus were having a moment of pure rage and anger. A clap of sheer noise rang in my ears, making the sky seem as if it had split apart. Sticking the tip of my tongue out, the rich and earthy taste of the humid air landed gently on my tongue. The humidity didn't seem like a burden anymore; it was a pathway to nature and to understanding its beauty and grace. Every breath seemed to fill my lungs more and more until the sensation felt like a caged bird, ready to fly away into the world. At that moment, I could fly. I could soar. I was invincible. I could have stayed in that exact spot still as a statue for hours more. Days. Years. Millenia. However long it took to connect with the wonder we have been blessed with. I still thank Hawaii for being the place that introduced me to this wonderful experience. To this day, if I concentrate hard enough, I can almost hear the eerie crashes of the waves breaking across the shore.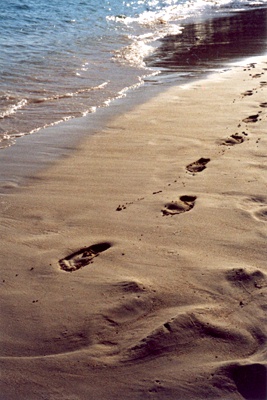 © Ashley B., Potomac, MD