The Jardinière
February 23, 2021
Mrs. Carson got up early and go out to buy flowers as usual. She has to go back before Mr. Carson is angry with his breakfast is not ready. So, she grabbed a bouquet without taking close look at it, pay for it in haste, then left the flower shop.
"Hey, I'm back." Mrs. Carson quickly trimmed the flower's root and picked a fancy jardiniere. Then she arranges the flower detailly, making it has exquisite posture. "The breakfast is on the way. Just a minute." She looked at Mr. Carson, then turn into the kitchen. Soon the sound of chopping vegetables and ventilator outflow from the kitchen.
Mr. Carson didn't reply to her. He is looking around on the phone. Not exactly for some information, just spending the free time. He doesn't have any mood swings on his face. He is just moving his fingers on the scene mechanically. He is maybe skimming the news or nonsense short videos. Suddenly, a call came in. Mr. Carson was stunned for a moment, then answered it. "hello, this is Matthew Carson." After a while, he knows who is talking and for what. His emotion suddenly became excited and ardent; his sound became chuffed. Mr. Carson looked at the kitchen and frown because of the noise. He stepped onto the balcony to continue his conversation.
Mrs. Carson is done with the breakfast. "Matthew, Come and have breakfast. Quick!" She is putting the dishes off from the saucer and taking off the apron. "Matthew, where are you, it is time for breakfast." Mrs. Carson realized Mr. Carson still didn't come. "Otherwise, you will be late for work. Come on!" "I heard you, why are you so loud. It's annoying." Mr. Carson came into the dining room and complaining. "I do not intend to annoy you. You shouldn't shout at me." Mrs. Carson was angry. Her face was turned red and stared at Mr. Carson. "What are you doing just now" Mr. Carson doesn't want to continue to argue and making his wife upset. "Just answer a phone call. It's from Mr. Wilson. My current most important client."
They started their breakfast. Mrs. Carson poured a cup of milk for Mr. Carson. She doesn't want to quarrel destroy her nice mood for the whole day. She needs to maintain a nice mood to have several classes for kids. "okay, then what's up." "he is expecting us to get more scheme of the advertisement of their jardiniere." "so, are you gonna overtime for this in this couple of days?" Not really. Depends on the progress every day."
The tinkling of spoon and fork collide on the bowl and the dish is full of the room. None of them say a word. This silence until they almost finished the breakfast. "hey, are you realize today I picked a nice jardiniere? I was hurry when buying the flower, but I was really satisfied with this combination anyway." Mr. Carson glanced at the bouquet and nodded. "okay, it's time to go. See you afternoon." "see ya." Mrs. Carson smiled superficially and started to clean the desk.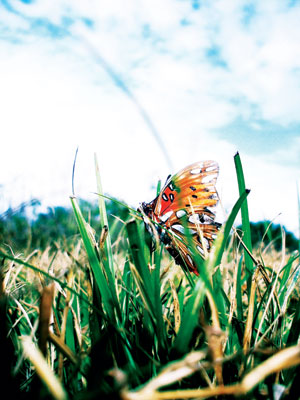 © Ashley B., North Port, FL